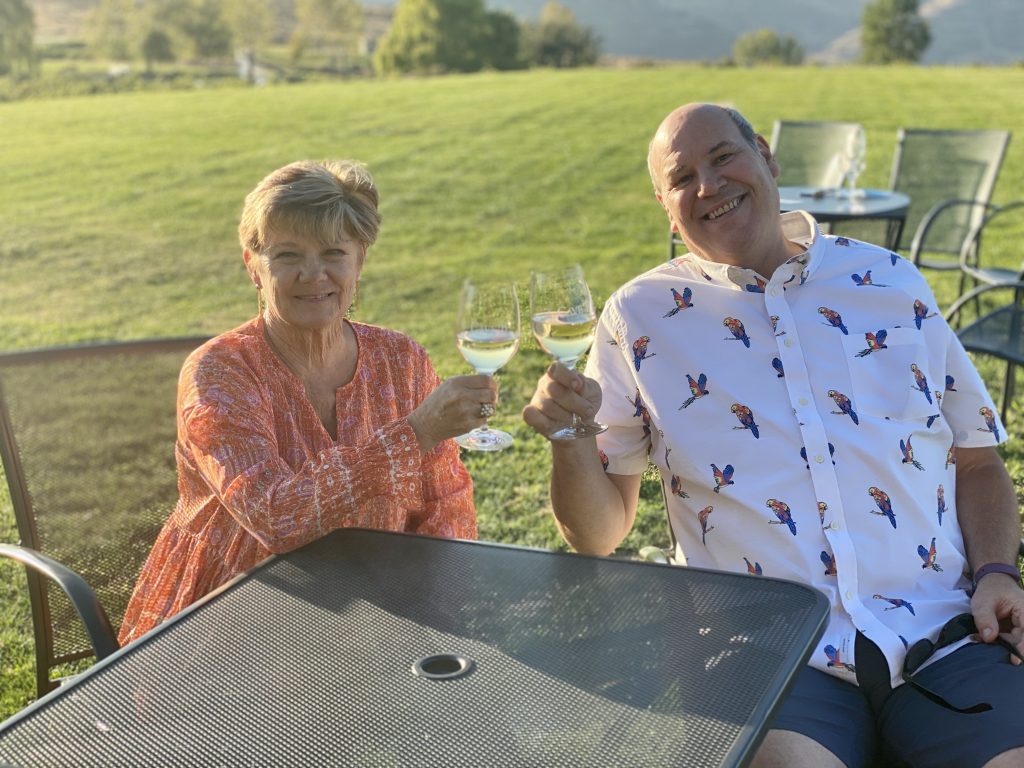 *This will be a long post but I promise you it's worth the read! For our Wine Time Fridays podcast this week, we were truly blessed to have the pleasure of visiting and recording at Cave B Estate Winery in Quincy, Washington. It's a gorgeous property with a great history! And of course, they have some fabulous wines! They are located in the Ancient Lakes of Columbia Valley AVA. (An AVA is an American Viticulture Area.)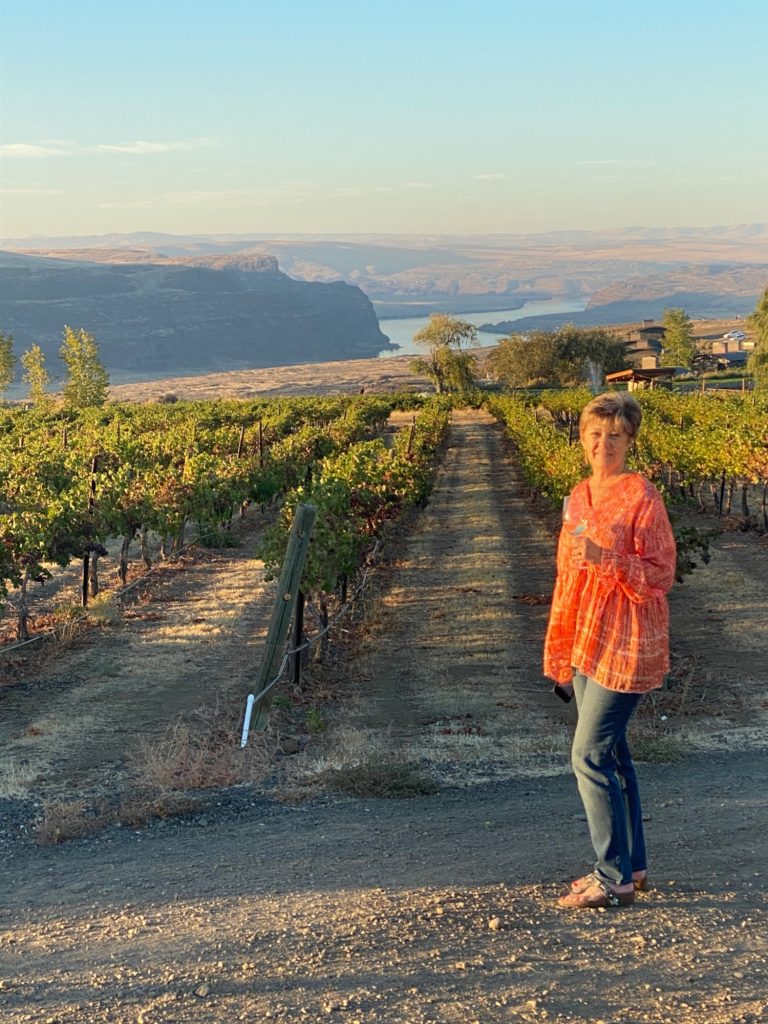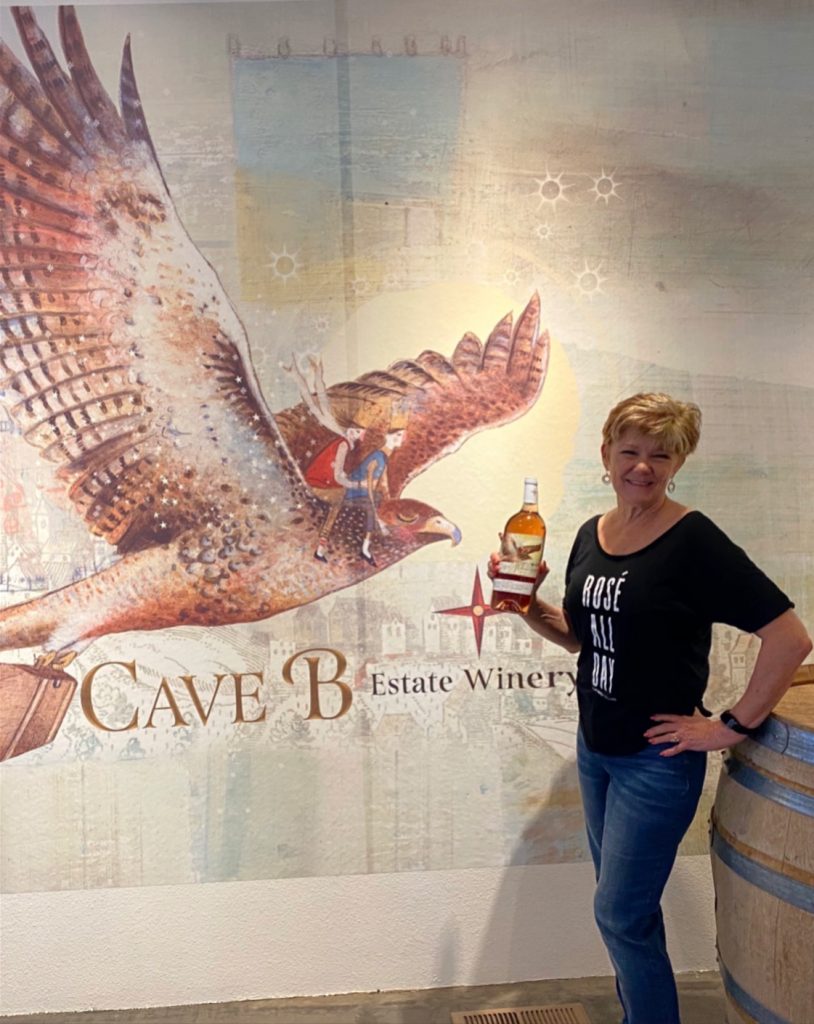 I'll tell you more about the wines we tasted in a bit, but first I want to share their story.  And before I gush on, let me just say that I LOVE this winery, the family, the staff and everything this winery exemplifies! Everyone is soooo friendly and will go out of their way to help you!  When we left, we felt like family.  (We've actually been wine club members for two years but have not gotten the chance to visit that much.)
Cave B Estate Winery is the realization of the dream of Vince and Carol Bryan. Vince was a neurosurgeon and he and Carol had landed in Washington as a result of a navy transfer. Vince wanted a calmer pace of life and had always thought about farming. Being of Italian descent with both of them having a love for wine, they decided to grow grapes. Their first harvest was ready in 1984.
At first, they had thought they would sell their grapes to other wine producers but soon they decided to create their own winery named "Champs de Brionne", which translates to "Bryan's Fields". (There's a small sign at the entrance to the tasting room that gives a nod to that era.)
For the grand opening, they wanted to make things beautiful on the property and also to have musicians and "So two weeks before the Grand opening of Champs de Brionne Winery they used the backhoe to clear a space, create terraces, put the old irrigation ditches as backing and laid down sod to sit on. Vince & his son built the first stage. Carol & their daughters helped to landscape the area. They hired the Dixieland Jazz Band out of Wenatchee to come to play and the Champs de Brionne Summer Music Theater was born." This summer theatre eventually became what we now know as The Gorge Amphitheater, where famous acts come to play amidst the heavenly acoustics and gorgeous views… and a 20,000 person capacity. Vince and Carol owned the amphitheater for 7 years and sold it in 1994 but retained all of their vineyards and several hundred acres of undeveloped land. As part of the sale, Champs de Brioone Winery was closed. (Find more about what became of that undeveloped land in my post about  Glamping at Cave B.)
Fast forward to the year 2000 and the Bryan Family decided to create a new boutique, high-end winery which they named Cave B Estate Winery.  It was always clear to the Bryans that the land they purchased was national park quality and that they wanted to share their land and views with others. With its sweeping views of the Columbia River and basalt cliffs, it truly is that gorgeous!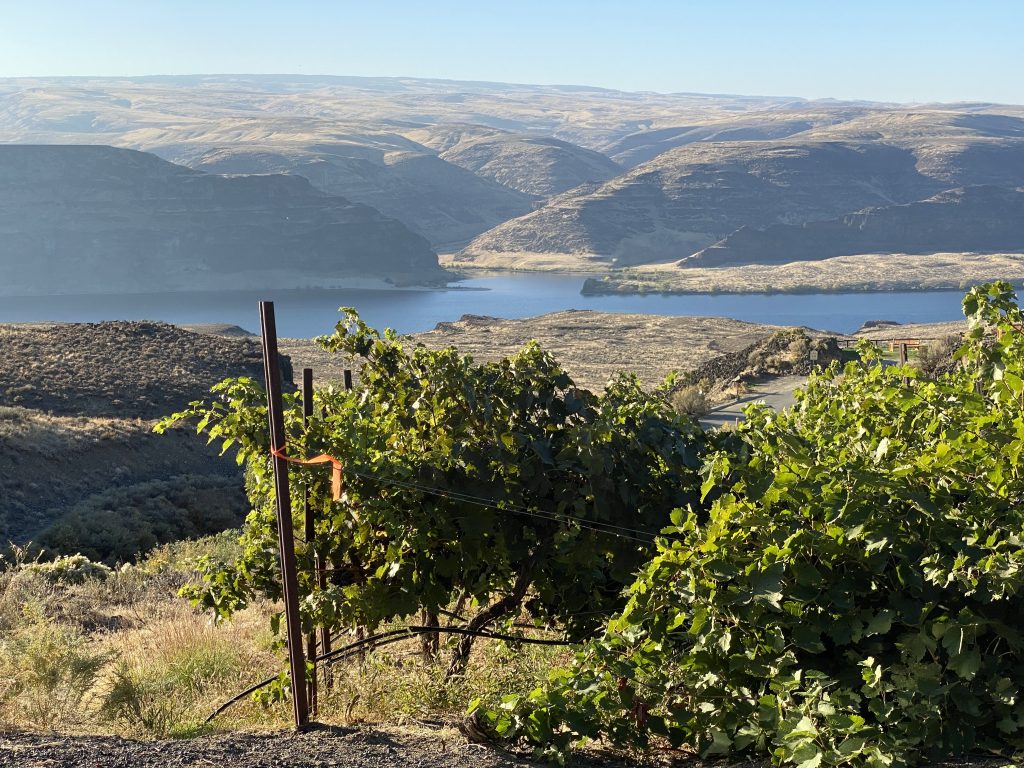 Over the next few years, they added several amenities (which I discuss more in Glamping at Cave B article) such as Cave B Inn, Tendril's Restaurant, a small boutique spa and pool, Cave B Ridge Condos, the Stage B Amphitheater, and the Lakes at Cave B projects.
One of the main reasons I love this winery is their philosophy.
In May of 2020, they launched their new wine labels, one for white and one for the reds.
In their own words, the labels were created "to show Vince & Carol's journey of following a childhood dream to reality. The Red-Tailed Hawk on the label is the most majestic bird we see flying over our property daily soaring over the vineyards & playing in the wind over the cliff edge. The hawk symbolizes our love & respect for nature & this place. The two people on the back of the hawk are Carol & Vince going on a journey together, flying out of the big cities of their youth (as seen in the first image, our White Wine label) & into the country (as seen on the 2nd image our new Red Wine label).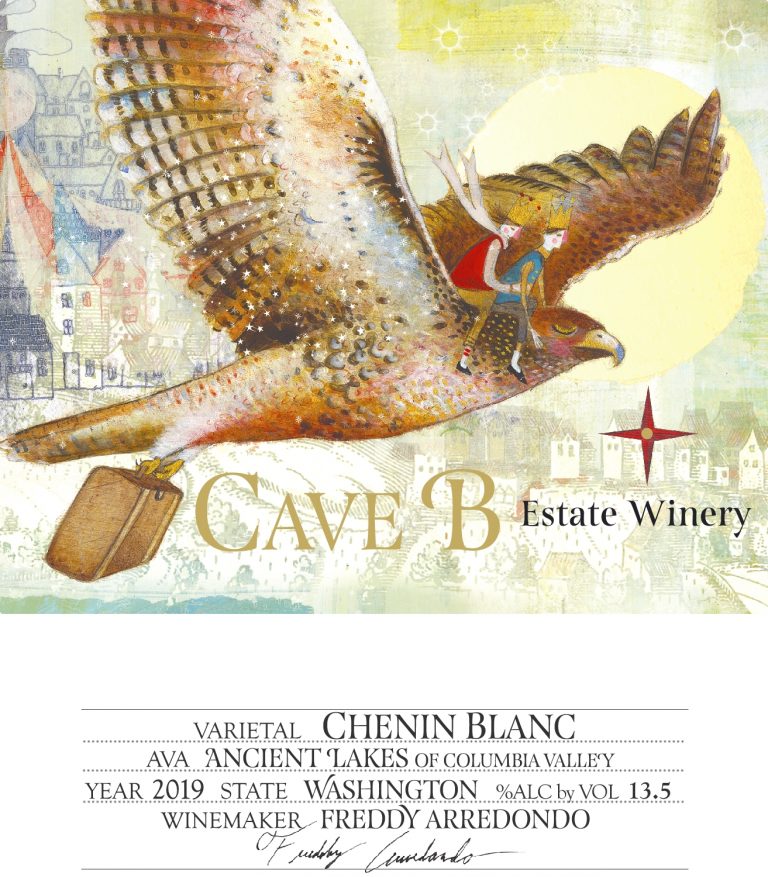 The accordion case in the hawks talons symbolizes that music has always been part of their journey & how early childhood experiences can affect adult decisions. The hawk is in flight to show the concept of the "B", that we hope our wine, friendly staff, fun events & beautiful property can inspire you to take flight to follow your own dreams so that you can "B" exactly who you have always wanted to "B". The star seen in both the labels & in our new logo represents the concept that you are the star of your own story, that you can make your dreams take flight. It can also be seen as the North Star, a guiding light and a beacon of hope."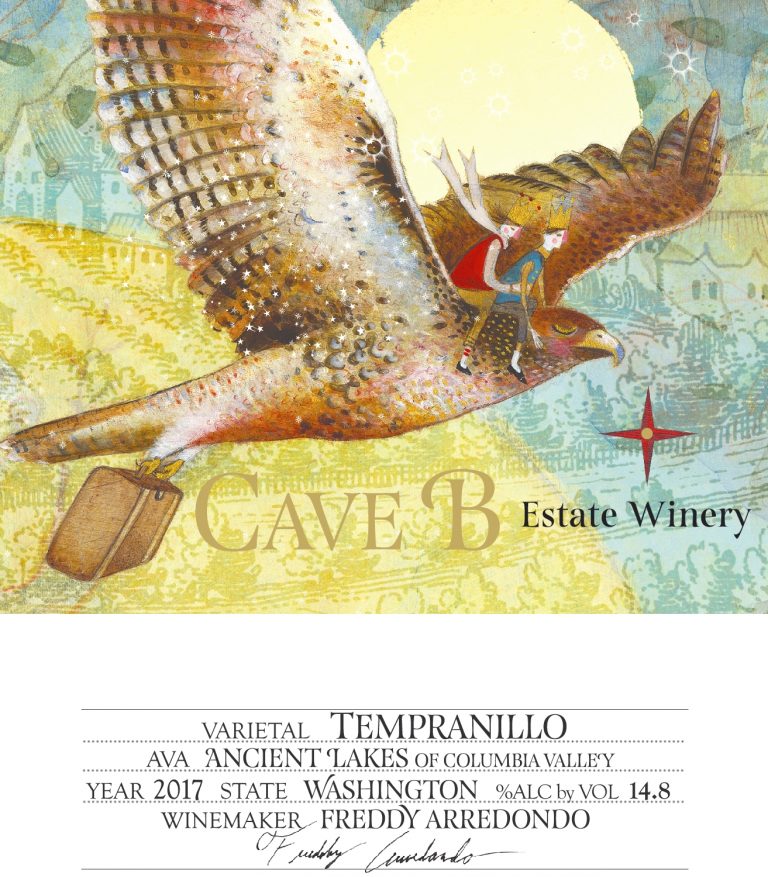 Cave B Estate Winery uses 100% estate-grown fruit from our Cave B Familigia Vineyards that surround our winery and Quincy tasting room. Their "oldest vineyard is over 40 years old while their youngest was planted in the spring of 2020. Currently, they have approximately 103 acres in vines and grow 17 varieties of grapes that they use for themselves. They also sell grapes, juice and bulk wine to many other wineries.
The white varieties they grow are Chardonnay, Semillon, Viognier, Roussanne, Marsanne, Chenin Blanc, Sauvignon Blanc, Riesling and Gewurztraminer. For the reds, it's Cabernet Sauvignon, Cabernet Franc, Merlot, Syrah, Sangiovese, Barbera, Tempranillo and  most recently Montepulciano (We can't wait for that!)
The tasting room and offices. You can see the Stage B Amphitheater on the right.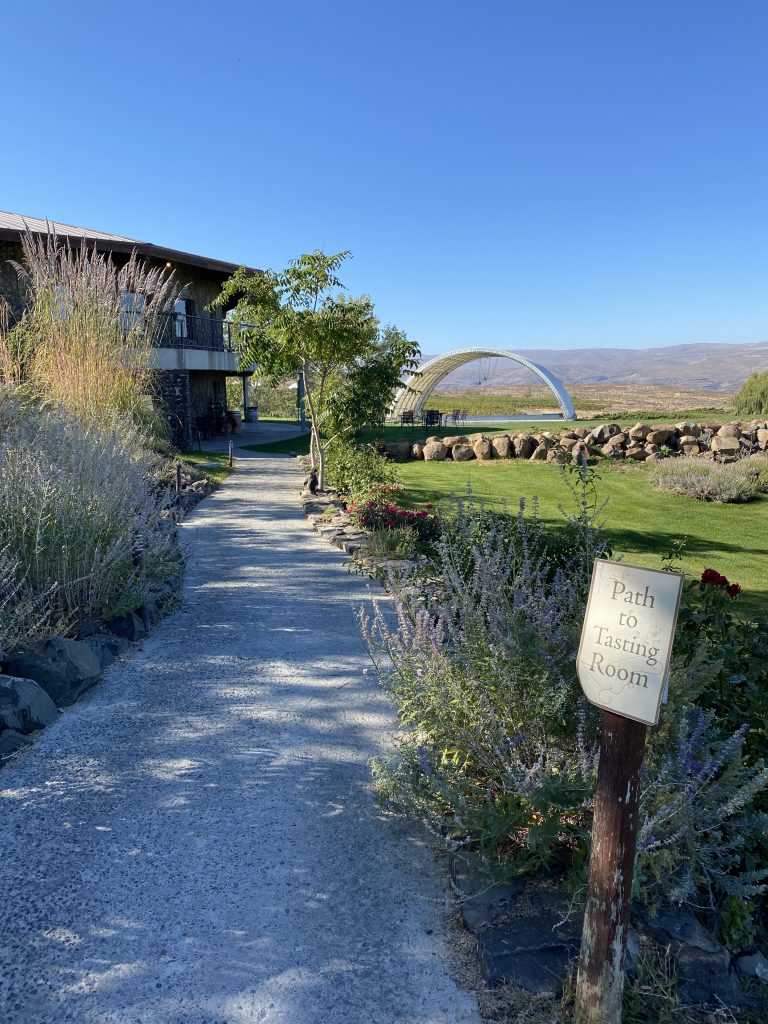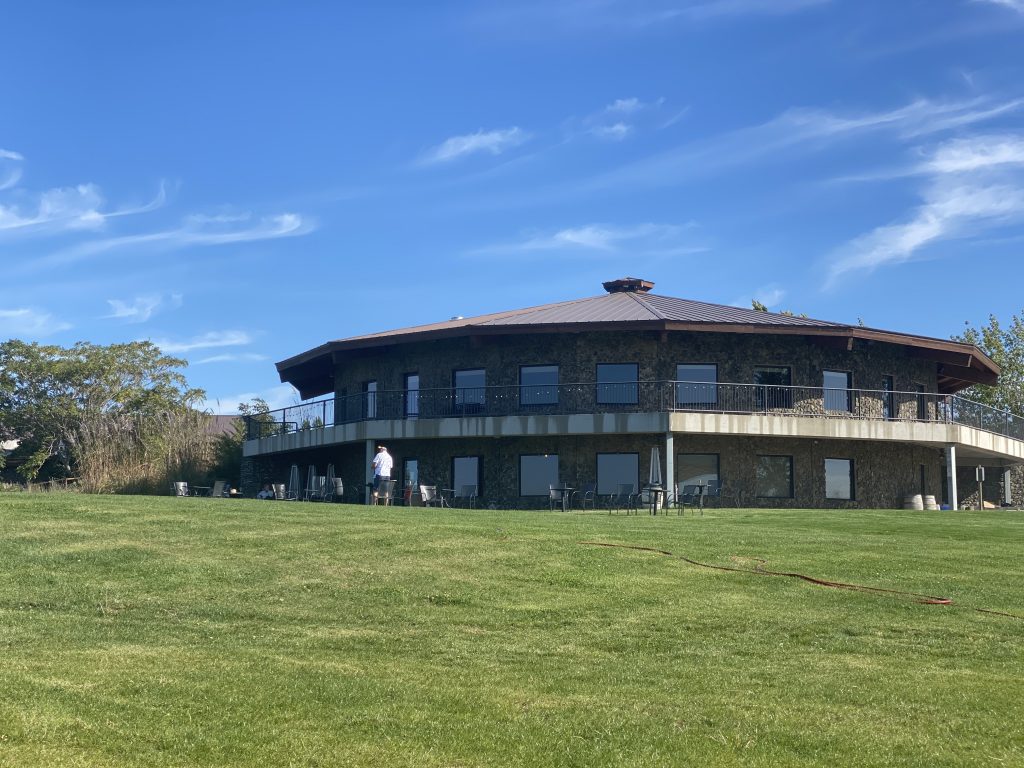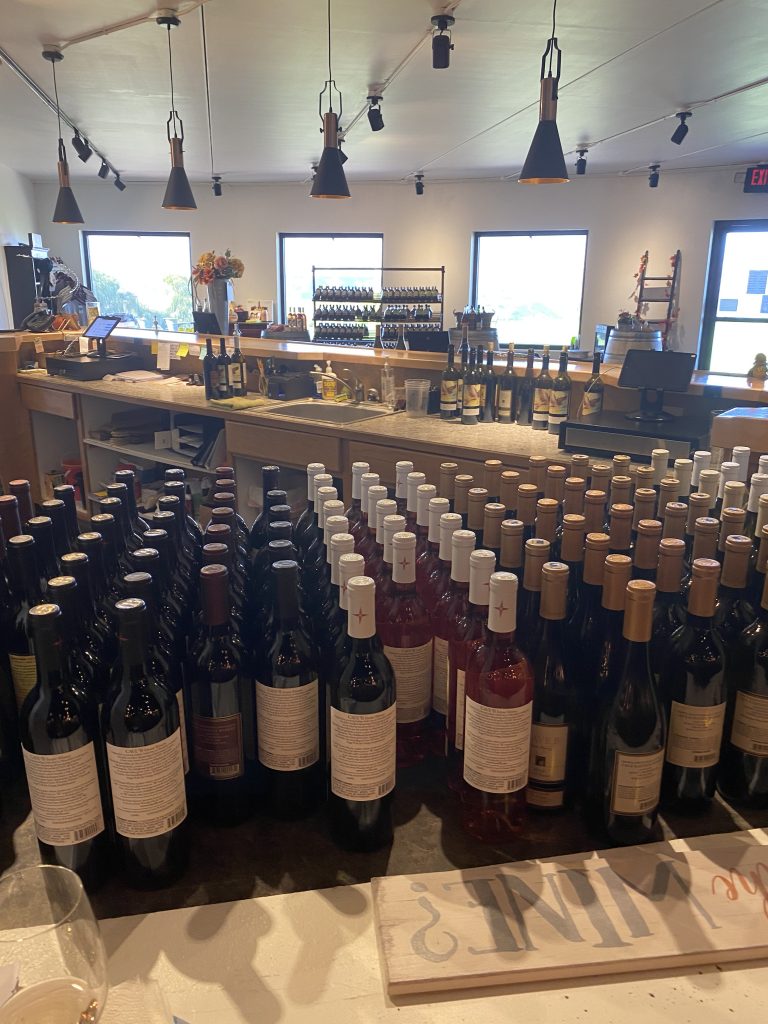 These are the wines we tasted through.

We had planned to do the podcast recording outside but it was a little too windy so we moved into The Cave! The Cave can be rented for special occasions. Many weddings are also held on property (before COVID)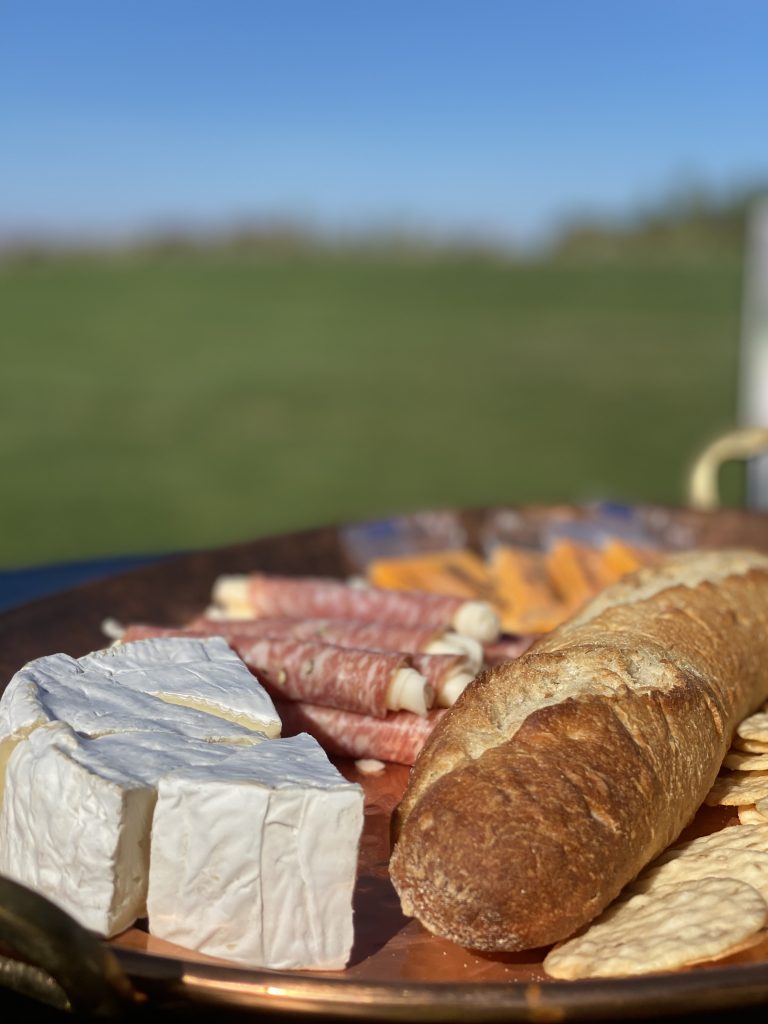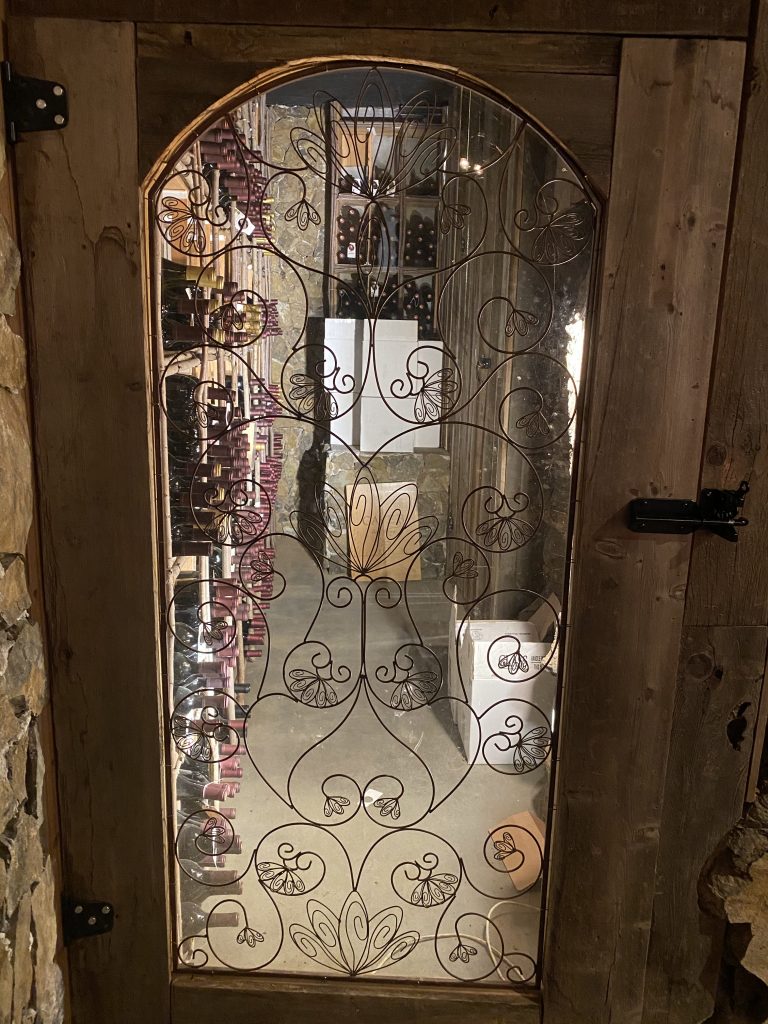 Tasting Notes (from the winery):
Whites: 
Blanc de Blanc (sparkling wine)
Aroma:  doughy, yeasty aromas that greet your senses. Hints of green apples and a whisper of citrus.
Taste: fleshy mouthful due to some time spent on the lees (yeast sediment) during the bottle aging.  Crisp acidity with flavors of apples and pears exploding on the palate.
Food Pairing:  This wine can be paired with a wide variety of foods but if you want to just be basic, enjoy it with lightly salted potato chips! Cheese, crackers, assorted jams and compotes will also pair nicely.
Dry Rose' – 80% Syrah, 10% Malbec and 10% Tempranillo.
A beautiful light pink color akin to the Rose's of France's Southern Rhone. Editor's Note: one of my favs!
Aroma: macerated strawberries leap from the glass on the initial sniff. Hints of watermelon and Rainer cherries complement the aromatic profile.
Taste: Clean, crisp and delicate with a complexity that perfectly compliments the lean structure of the wine. Strawberry, bits of melon and early season nectaries can be found in the taste as well.
Food pairing: Cheese, cheese and more cheese. Mixed baby greens salad with aged and fresh goat cheese, chili-glazed candied pecans, green mango and strawberry vinaigrette.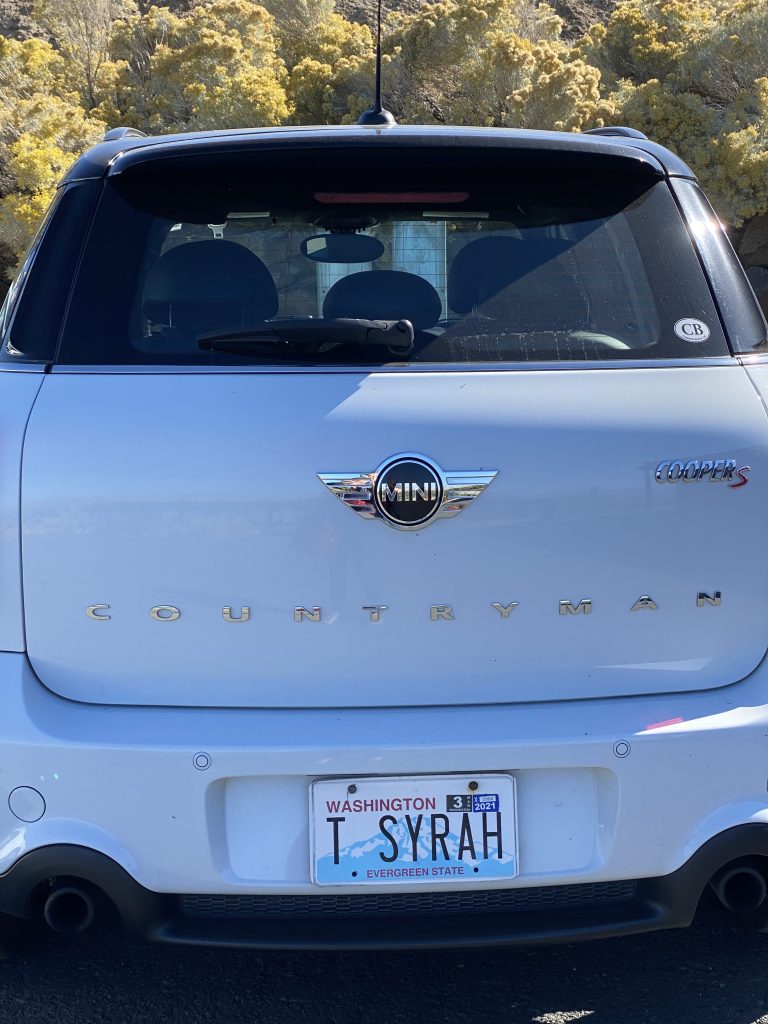 Chenin Blanc
Grown in the Ancient Lakes AVA, this wine is grown on our oldest vineyard block (40 years old this year). Editor's note: one of my favorites and I don't think I've EVER said that about a Chenin Blanc. This is not your mother's Chenin Blanc.
Aroma: Mix of guava, lychee fruit, freshly mowed lawn, Meyer Lemon and a bevy of other aromas. Notes of citrus, tropical, mineral, and herbaceous (in a very good way)
Taste: WOnderfully tart on the palate with the initial intensity of fruti trying to trick your palate into thinking it's going to be sweet… but it's not. It's super lively and crisp. Meyer lemon and tart guava on the finish.
Food Pairings: Creamy cheese, a triple cream brie served with quince jam on crostini would be amazing.
Reds
Tempranillo
Wine Notes: The warm aromas and flavors of tempranillo combine notes of earth, spice and fruit in such a lovely way, making it a truly versatile red.
Aroma: Dark chocolate and cola nut are the first impressions of this wine. Hints of red peppercorns and sage move into dark aromas of blackberry, plum and fig.
Taste: Initial earthy notes are followed by the dark fruit flavors with the finish bringing out that lovely cola that just lingers on the beautifully extended palate.
Food Pairing: Spicy dry-cured salami or pork tenderloin marinated in garlic, smoked paprika and cumin and then drizzled with a plum reduction would be great!  Editor's note: we paired this with the salami at the winery and then with a tenderloin with smoked paprika and cumin but added some cinnamon into that rub. It was wonderful!
Caveman Red
Another of my favorites due to its flavor and immediate drinkability. It's at a price-point where it could be served with an everyday meal like meatballs in marinara sauce.
Aroma: This wine is always the same yet always different. It's made in a style that is super fun and easy-drinking, not huge amounts of structure but enough to make it interesting enough but not a tannin-filled bomb that needs to be cellared for a few years. The makeup of the wine changes every year. This 2017 vintage has all 5 major Bordeaux varieties plus tempranillo for a fun, flavorful blend.
Editor's note: the 5 major red Bordeaux varieties are cab sauvignon, merlot, cab franc, petit verdot and malbec and sometimes Carmenere
Taste: Earthy notes with a bit of cedar and pencil shavings. The fruit is a combination of dark and red fruits, fresh blackberries, mission figs and just a hint of hibiscus flower.
Food Pairing: As above, meatballs!  Meatballs made with tons of parmesan and a good amount of garlic simmered in a marinara sauce and served on a fresh hoagie roll with a flaky crust, then topped with melted aged provolone cheese!  (Now, I'm hungry!)
Cuvee du Soleil
Wine Notes: This is a lively wine from start to finish. The result of fastidious barrel selection, this wine is the best of what Cave B has to offer.
Aroma: Bing cherries, pomegranate reduction, mixed berry jam and dark plums with hints of vanilla and roasted chestnuts.
Taste:  WOW is a great description!  A mouthful of fruit with earthy notes and robust density on the palate. Cherries and pomegranate lead the way. The wine is beautiful even with no gaps in the mouth with a finish that almost shows off as it lingers on the palate long after you swallow the wine.
Food Pairing: Crispy, tender pork belly with smoked tomato jam served on roasted garlic mashed potatoes and a side of grilled veggies. (I might add some chocolate mousse!)
I hope that you'll also pop over and listen to the podcast (Parts One and Two!) to learn more about the wines and the stories of the winery from Carrie Bryan (daughter of Vince and Carol) and about the wines themselves from her husband, Freddie, the winemaker. Jayney also explains about their wine club and its levels.  We also want to mention Tia here, who manages the tasting room and is such a joy! Yes, she has a vineyard named after her – Tia's Syrah!  Thank you so much for sharing your amazing winery with us!
You can find the winery and tasting room at 348 Silica Rd NW, Quincy, WA 98848 Phone number: 509-785-3500
LEARN TO LOVE YOUR LIFE AGAIN
---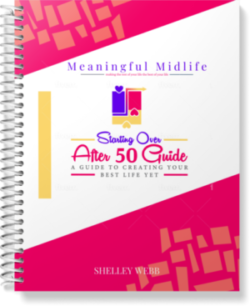 Do you feel like you need to hit the REFRESH button on your life? Download our free guide and begin to create your best life yet!