June is Idaho Wine and Cider Month so on our podcast Wine Time Fridays, we have been exploring some of the wines that were unfamiliar to us.
*Note: some wines we purchase and some are gifted to us to taste but we do our very best to be objective!
Idaho has been better known for its potatoes than its wine but the wine industry there is growing quickly and they are producing some outstanding wines! In fact, some in the industry are even referencing Idaho as in the top 3 states of fine wines in the United States.
Idaho now has three AVAs – Snake River Valley in southwestern Idaho, Lewis-Clark Valley in northern Idaho and the newest AVA, Eagle Foothills in southwestern Idaho, the only AVA that is located completely in the state of Idaho.
History of Wine Production
Some of the very first grapes planted in the pacific northwest were planted in Lewiston, Idaho and the wine industry there was booming from 1856 until prohibition hit in 1919.
In 2002, there were only 11 wineries but as of 2021, there were over 65 wineries with grapes planted among 1300 acres, so it's no surprise that Idaho is home to an award-winning and rapidly growing wine industry. Idaho is known for growing and producing classic varieties including Chardonnay, Riesling, Merlot, and Syrah as well as Sangiovese, Tempranillo and Malbec.
Wineries whose wines we tasted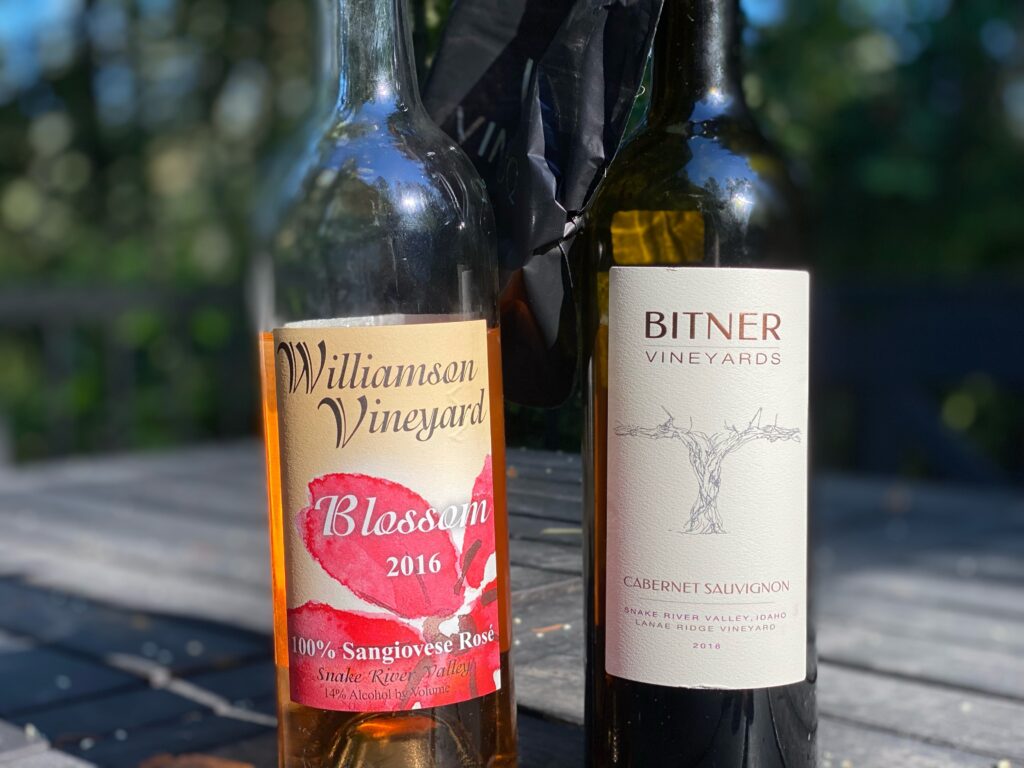 Bitner Vineyards
Bitner Vineyards is located in Caldwell, Idaho in the Snake River Valley AVA. They are a very interesting winery for a few reasons. The winery is owned by the husband and wife team, Ron and Mary Bitner. Ron has a Ph.D. in entomology and is very interested in bees; therefore the winery is bee-friendly and is also certified Live sustainable.  That means that they are using ecologically sound and science-based pest control practices. The certification also ensures that workers are treated fairly and that the waterways are protected from agricultural activities.
Established in 1981, Bitner Vineyards produce wines for the serious oenophile and collector of quality wines. They are well-regarded, very popular, and have limited production. Ron and Mary are also currently working on growing French Black Truffles. Although we've not been to this winery, we hear it has gorgeous views.
2018 Bitner Vineyards Cabernet Sauvignon ($33.00)
This was a wonderful cab tasting of dark berries (boysenberry, blackberry) and currant. Mild tannins. Limited production – only 249 cases were produced.
Family-owned and operated and located in the Snake River AVA, their first vintage debuted in 2001. They sit on what was an original homestead of 80 acres that has now become much larger and has 65 of its acres planted with grapes with 16 grape varieties. Their winemaker is Greg Koenig who has been making wine with the Williamson family for 15 years.
Coming from a long farming history, they also grow cherries that can be purchased locally in their gift shop nook, along with other locally produced meats, cheeses, chocolates, hand-crafted items, and more!
We tasted their 2016 Blossom Rose' of 100% Sangiovese which we found at our local Kroger store for $16.49. The winemaker mentioned that it was a dryer rose' than in their previous years. Light color, Light floral, crisp tart cherries, and honeydew. Delicious!
Located in Garden City, Idaho (Snake River Valley AVA), this winery produced only sparkling wines created in the Methode Champenois (with a twist – and a twist cap)! Family owned by Marshall and Hailey Minder (and their two dogs, Cadence and Lou), they are the first and only sparkling winery in Idaho. Marshall and Hailey met on the Middle Fork of the Salmon River in 2010 where Marshall was a river guide.
Their name comes from the more than 3,100 whitewater river miles in the state of Idaho.
2017 3100 Cellars Whitewater ($46 from the winery) 
Made from 100% Bitner Vineyards chardonnay, this sparking wine is bright and slightly golden in color.  Strong bubbles but not harsh. Apples on the palate. It was sensational! 13.7% alcohol which is a bit high for a sparkler.
They also make a sparkling rose' of syrah.
Also in the Snake River Valley, this winery is owned by Mark and Lori Pasculli who acquired Rolling Hills Vineyard as a neglected cabernet franc vineyard in 2016. They spent years revitalizing & enriching the vineyard's soil and made plans to care for the land in a way that is sustainable. It is truly a family effort with all three of their children working in the business in one way or another. (Lori's grandfather owned a small vineyard located in California's San Joaquin Valley.)
We tried their 2019 Rolling Hills Vineyard Tempranillo ($33 from the winery) which won Best of Class/Double Gold medal in the 2022 Idaho Wine Competition.  13.6% alcohol. Tempranillo is somewhat like a pinot noir in that you don't get the huge tannins. To me, it had a long finish with a bit of dates on the end. Really good! (winery notes – blackberries, cherries, figs, tobacco, dill)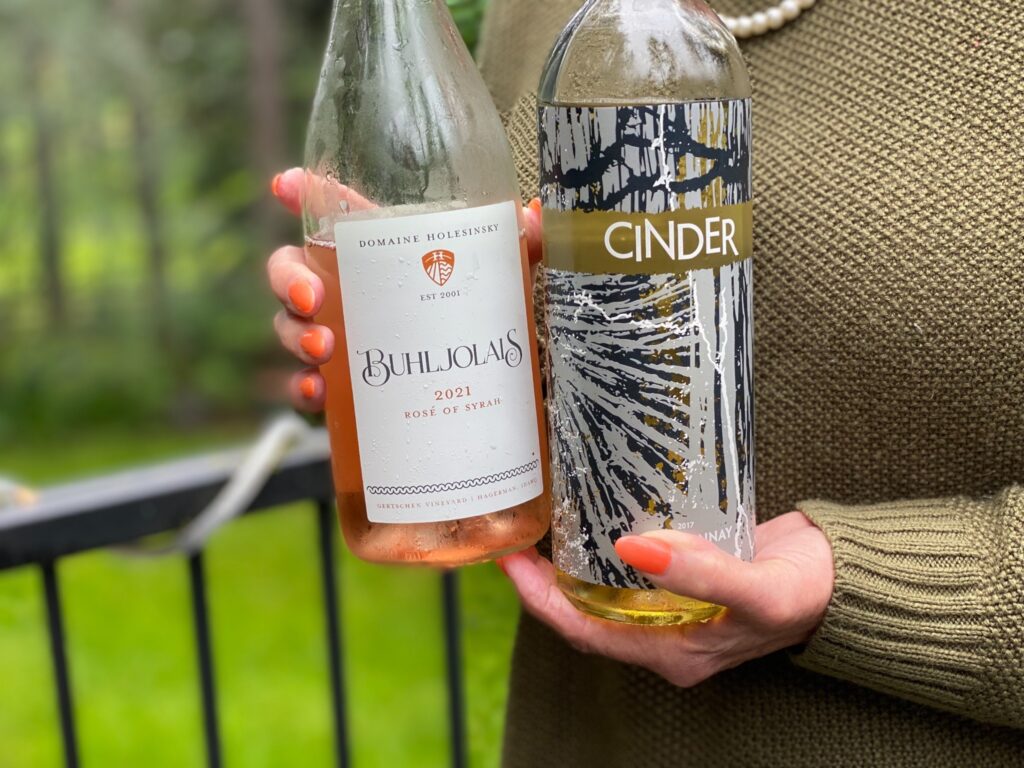 Holesinsky Vineyard and Winery was brought to fruition by winemaker, James Holesinsky, to honor his father, Frank's, lifelong dream. James was born in Buhl, Idaho (sidenote on that in a moment*). The land on which the vineyard rests is the childhood home of James and his siblings but the house caught on fire and burned down.
Holeskinsky WInery has produced organically grown grapes for more than 20 years. The Vineyard is free of glysophates, chemicals and pesticides and does not rely on any synthetic fertilizers, weed-killers or fungicides.
2021 Holesinsky Winery and Vineyard Buhljolais Rosé of Syrah ($14 from the winery)
*sidenote from above: remember I mentioned that James was born in Buhl, Idaho? Hense the name Buhljolais. 😉  A lot of their wines have very fun names.
This is a single vineyard selection from the Hagerman Gertchen Syrah Vineyard. Very clean and crisp – there is definitely strawberry on the nose and palate.  This wine won many awards including the following:
Double Gold | 2022 Sunset International Wine Awards

Gold | 2022 Drink Pink Vino Rose Competition

Gold | 2022 Idaho Wine Awards
2020 Reserve Pinot Noir ($65 from the winery; it was not released yet when we tasted but it is now.)
!00% pinot noir, 14% alcohol which is a bit big for a pinot.  Great nose – cherry, rich berry fruit, pomegranate – really great! To me, the nose is just like a cherry Vicks cough drop! And a bit of tobacco!
Cinder Wines is an urban winery* located in Garden City, Idaho… also in the Snake River Valley AVA. Their name is derived from the volcanic cinder that is beneath many of the vineyards that they work with.
Their winemaker is Melanie Krause, who along with her husband Joe, owns and operates the winery. Melanie grew up in Idaho and was a member of the Bogus Basin Ski racing team. Her inspiration comes from growing up with a huge garden that had over 40 varieties of grapes growing in it.
*urban winery – a winery whose winemaking facilities are in an urban environment, rather than in the more traditional, rural locations. This is becoming a lot more popular.
We tasted their 2017 Cinder Wines Chardonnay which we purchased at a local wine shop for $38.00.  This was not the best choice on our part as a 5-year-old chardonnay in this style is a bit past its prime.  It had a bit of spiciness to it, probably because it was aged a bit in black locust barrels. We'll try a more up-to-date chardonnay and report back.
They create both red and white wines and 3 different varietals of rose' – cinsault, syrah and grenache.
Huston Vineyards is located in Caldwell, Southwest Idaho on Chicken Dinner Road. This is adjacent to Huston, Idaho. also in the Snake River Valley AVA.  Huston Vineyards is owned by the Alger family which includes their two sons and Hershey and Mourvey, their friendly vineyard greeters.
2018 Malbec ($30 at a local wine shop. the 2018 is no longer available but the 2020 is available on their site.)  It's 92% malbec and 8% merlot
On the nose – dried blueberries, some spice as it opens up. Plums and dark berries on the palate. Delicious!
Check out their Chicken Dinner Wines, which are table wines named for the road on which they are located. When we were talking about them on the podcast, I mentioned that we have a road here named No Eggs road. It was named for the sign that used to hang on the corner when the family ran out of eggs for the day. People began saying "just go to the corner that says "no eggs" and take a right. Hence, it became No Eggs road.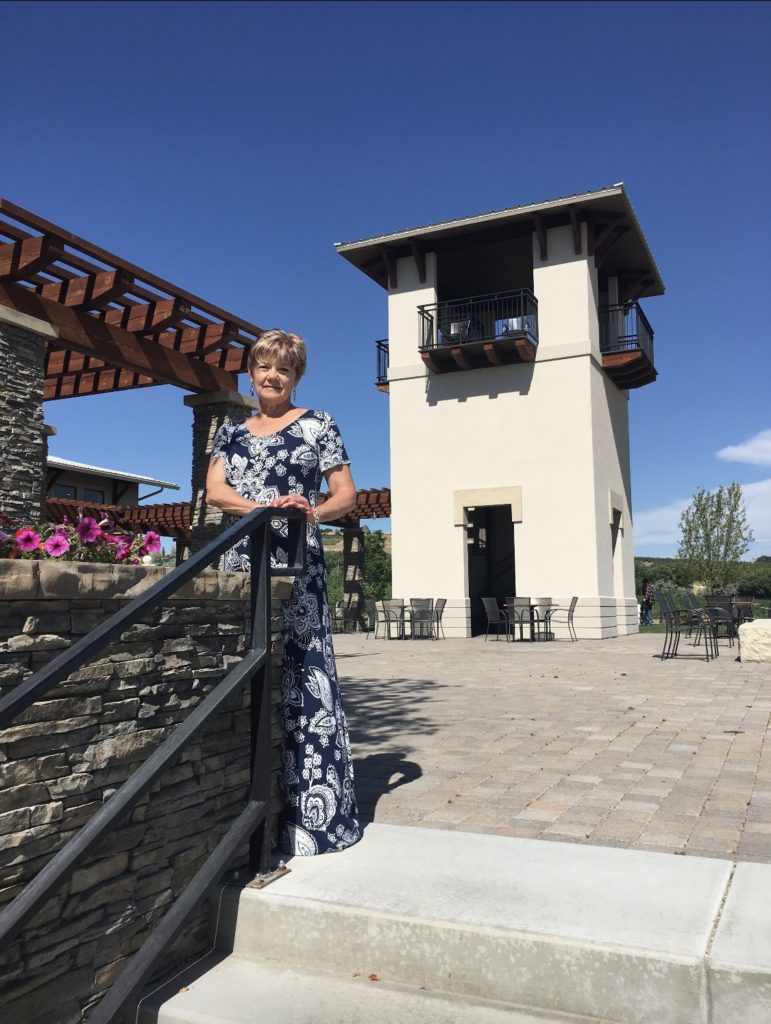 We visited Koenig Vineyards in July of 2019. where we went to meet up with our friends George and Tonya. Tonya writes a blog called The Real Chic Life, helping women to look and feel their best.
Since 1995 they have produced fine varietal wines using traditional European methods and locally grown fruit. You'll notice that I mentioned their founder, Greg Koenig, as the winemaker when I was writing about Williamson Vineyards. Koenig is now owned by James and Sydney Nederend.
It's a beautiful place to visit and has a lovely tasting room. You can bring your glass of wine outside on the grounds or up into the little tower where you can look over the vineyards.
We've tasted many Koenig wines but our favorites are their Sangiovese and their Reisling Ice Wine, both the oaked and unoaked versions.
From their website: "Varieties produced include Viognier and Syrah – varieties that do exceptionally well in Idaho – as well as Cabernet Sauvignon, Merlot, Riesling, Sangiovese, Petite Sirah, Chardonnay and Port-style dessert wines using spirits from the Koenig family distillery. Occasional weather conditions also allow for the production of Ice Wine and botrytis-infected late-harvest wines."
These are just a few of the many Idaho wineries that we've tasted on the podcast. Going forward, we'll be featuring one Idaho wine per month.  I hope you'll tune in to listen to WIne Time Fridays (wherever you get your podcasts), but more importantly, I hope you'll give Idaho wines a try very soon!
Coming soon: wines from the Lewis-Clark Valley AVA
Clearwater Canyon
Colter's Creek
Vine 46
Rivaura
2020 Rivaura Rose"
LEARN TO LOVE YOUR LIFE AGAIN
---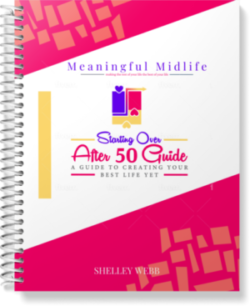 Do you feel like you need to hit the REFRESH button on your life? Download our free guide and begin to create your best life yet!