This was a gifted experience, but as always, my opinions are my own and are honest interpretations.
Recently, Phil and I were invited to experience an evening at Candle in the Woods in northern Idaho, about 25 minutes north of Coeur d'Alene. We had been hearing raving reviews about it for several years but had never yet tried to go as we thought it was an invitation-only experience.  Chef Dave will be a guest on our Wine Time Fridays podcast soon so we thought this was the perfect opportunity to see what all the excitement was about. We were not disappointed!
A Bit About the Restaurant
Candle in the Woods is located in a town with a population of 978! I actually used to live there when I first moved to Idaho and I can tell you that to have this quality restaurant in a town that size is no easy feat. They just moved into their new location in the center of town this past year.
Candle in the Woods features a prix fixe menu which changes each day, meaning that the menu for the evening is chosen by the house, everyone is seated at the same time and receives each course at the same time. Prix Fixe is French for "fixed price" and is pronounced as "pree fiks." Fixed-price menus are typically full course meals consisting of an appetizer, entree, and dessert, though they may feature fewer or more courses depending upon the restaurant. In this case, we were treated to 15 courses which were all accompanied by a complimentary wine*!  The courses are smaller but there is a lot of food and wine! Although some of the same courses are served on different nights, the menu is never repeated in its entirety. Chef Dave is always experimenting with new and exciting taste experiences.
*Because there is a lot of food and wine, you may want to opt to use the limousine service offered by the restaurant.
They are one of only two Idaho restaurants to win the prestigious Best of Wine Spectator Award of Excellence (Two Goblets) for 2016-17! They have almost 1800 different labels, 4200 bottles and over 200 international varietals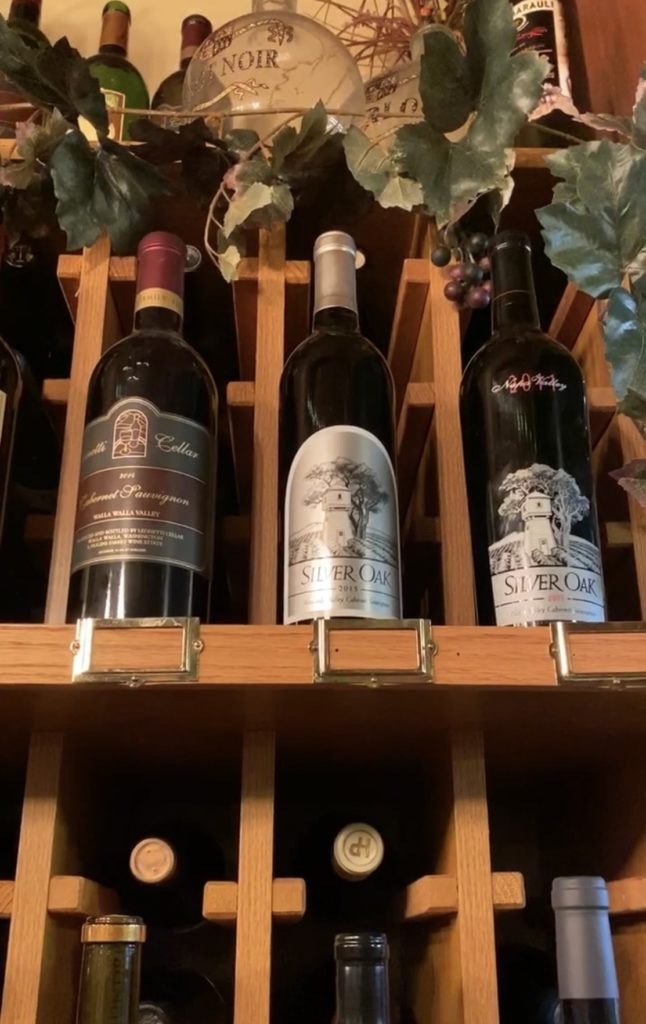 If you have ever eaten at The Hobbit in Orange County, California, it is a similar experience although at the Hobbit, there are fewer but heartier courses and you must purchase your own wine.
Chef Dave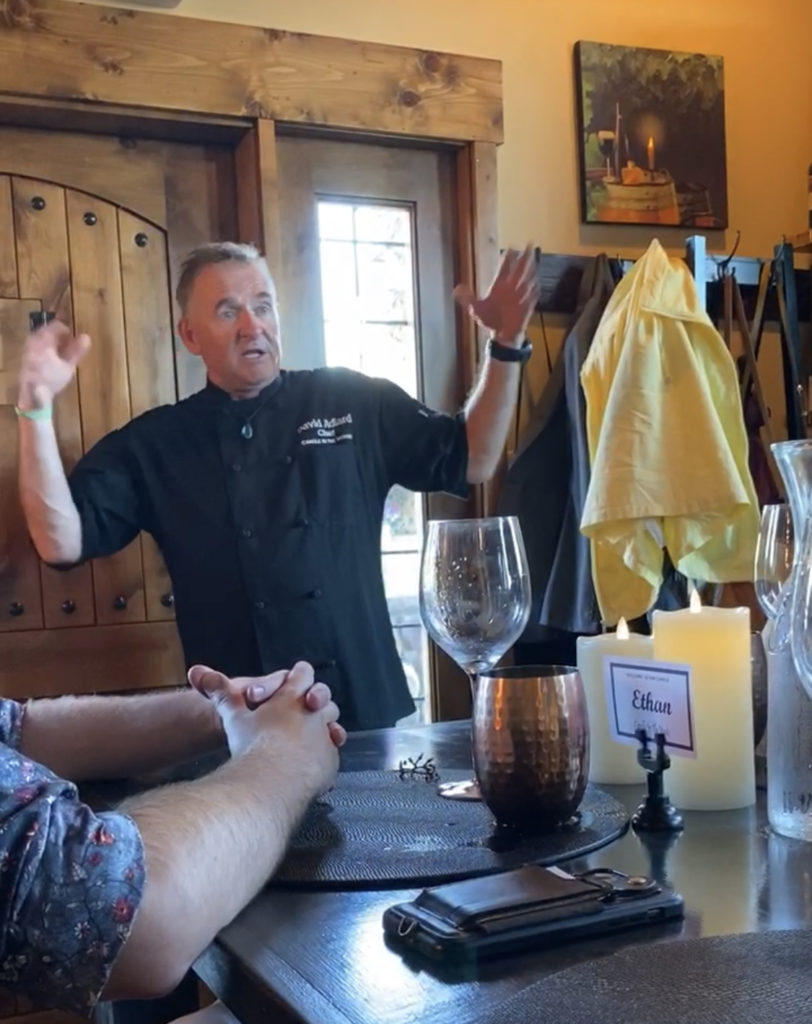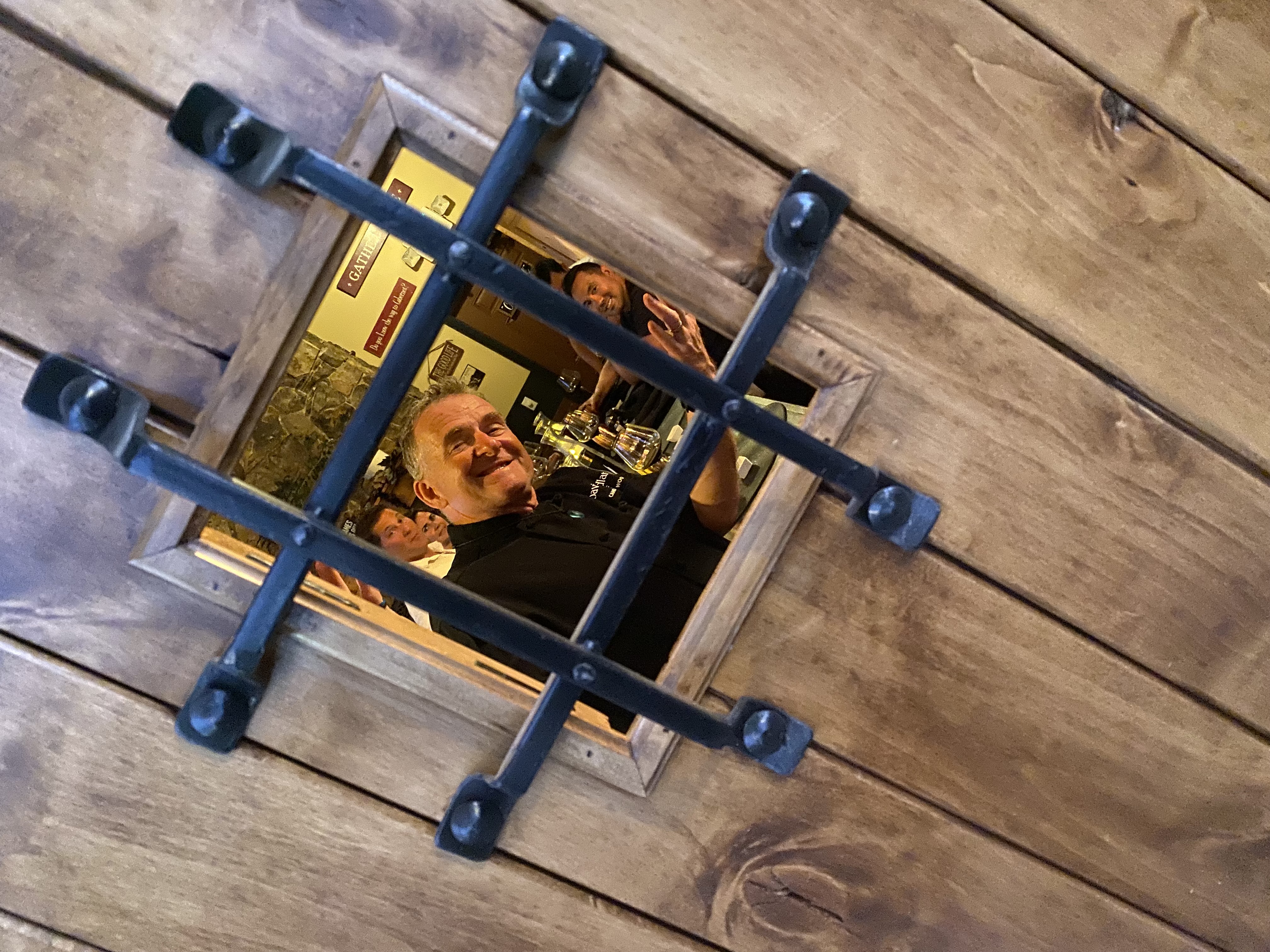 Chef Dave is a great storyteller, an award-winning chef, multiple Ironman finisher, many-time marathon runner, adventure racer, mountaineer, and author. He resembles Robin Williams (and can sound like him too!)
He and his wife Lisa have a daughter Delaney, who was on hand to help her father with presentations, as well as being a top-tier rock climber and a Ninja Warrior competitor! She is also very versed in etiquette!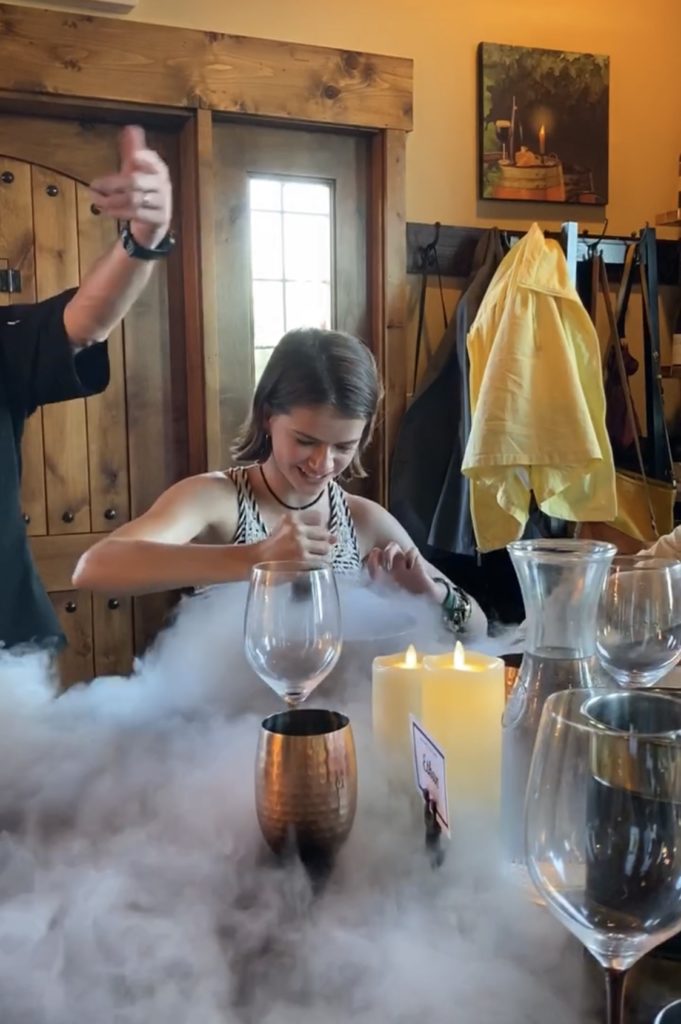 Reception
When we first arrived, we were escorted upstairs to the game room and welcomed with a glass of delicious red sangria and an appetizer of Yak meatball. Normally, guests are welcomed onto the back patio but we were going through a heatwave and it was still over 100 degrees when we arrived.  There were 18 of us dining that evening.  Chef Dave came up to introduce himself and tell us more about what we could expect that evening.
Chef Dave also explains each course before it is served, which was one of my favorite features of the evening. And so that I don't have to be redundant in each course description, EVERYTHING was delicious! You'll also notice that as we go through the courses, the names of the dishes may sound familiar but what they consist of is usually completely different!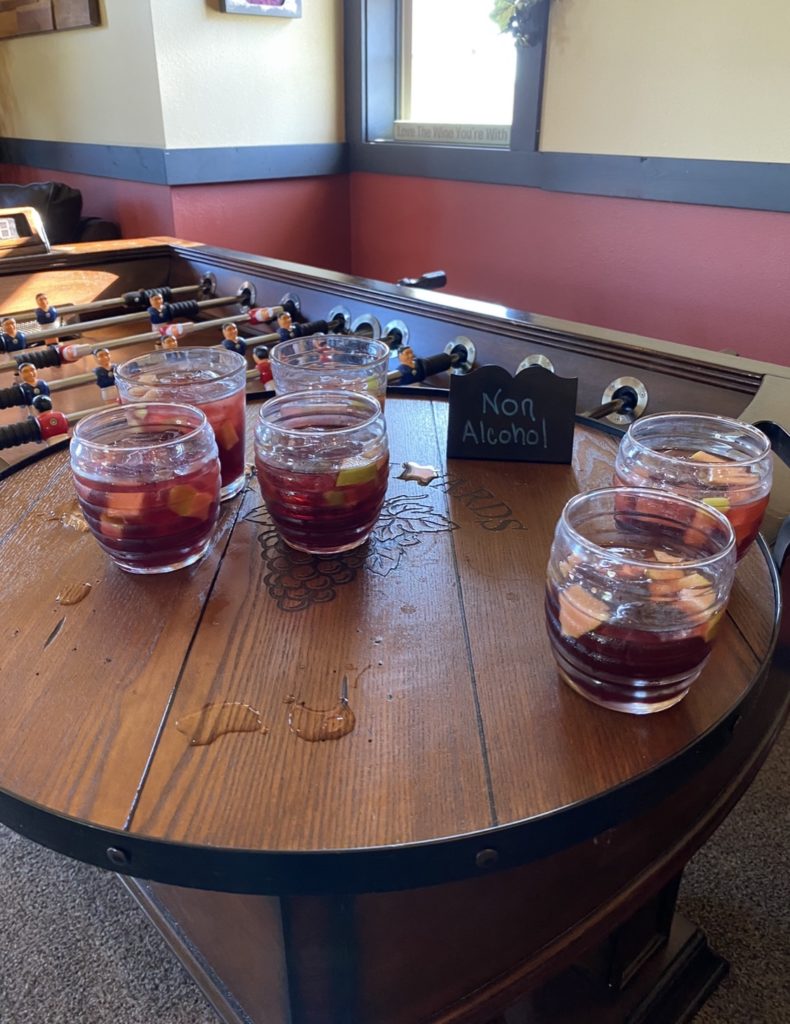 Amuse-Bouche (appetizers)
Amuse-bouche is a french word that literally means "it amuses the mouth".
Asparagus in prosciutto with chevre and berries & their signature Steak S'mores.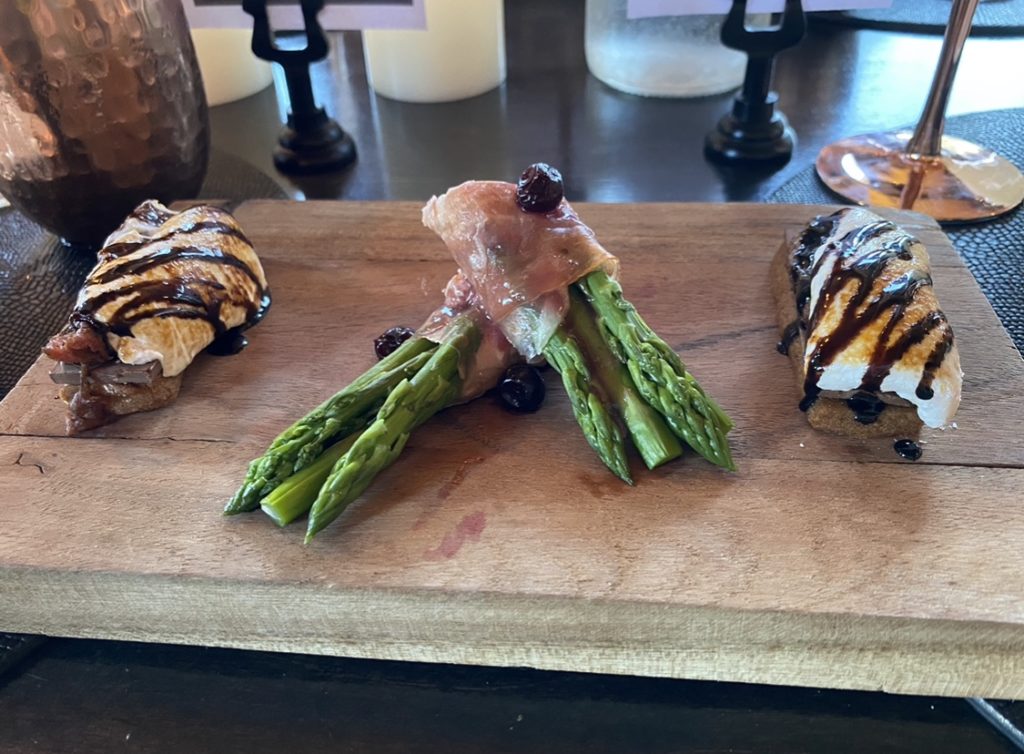 The steak s'mores consist of a homemade gingerbread Biscoff (the cookies you get on airplanes and my only favorite reason to fly), chocolate, tenderloin (they sometimes use venison), marshmallow and drizzled chocolate! For me, the s'more was a little too sweet. I might have liked to have smoked salmon rather than the filet, but everyone else loooooved it!
This course was served with a champagne and limoncello cocktail with 24-carat edible gold dust!  It was Ahhhmazing!  (See my Instagram story highlights for a video of this.)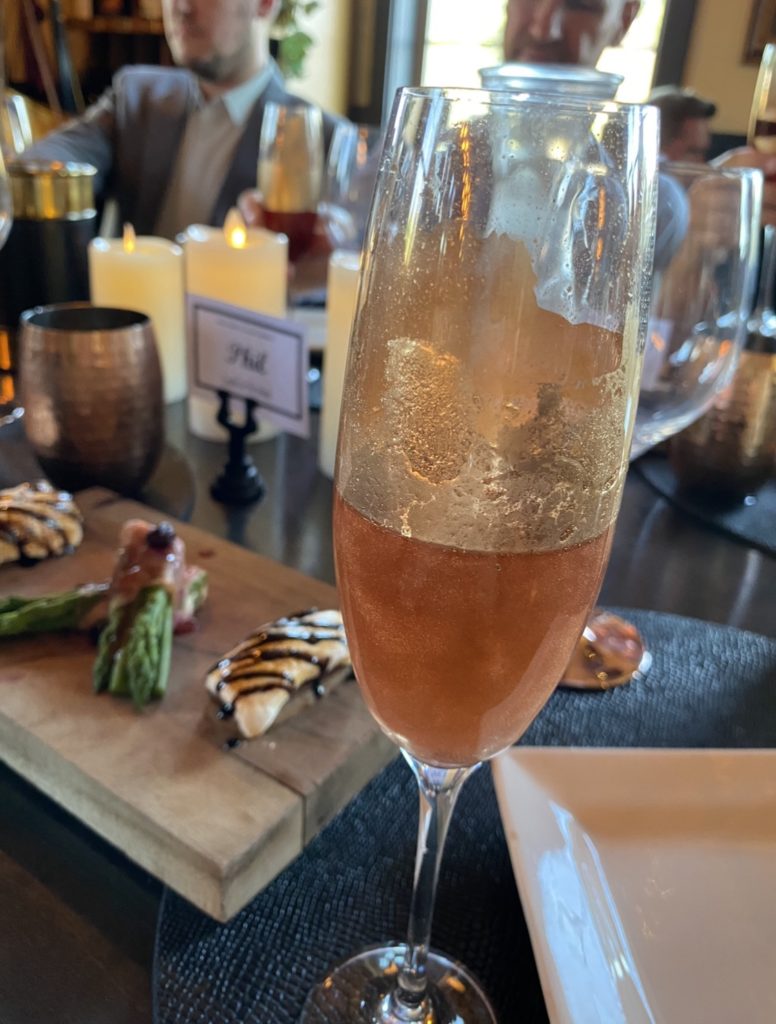 Tuna Tartare stack served with Clearwater Canyon Cellars 2020 Rose'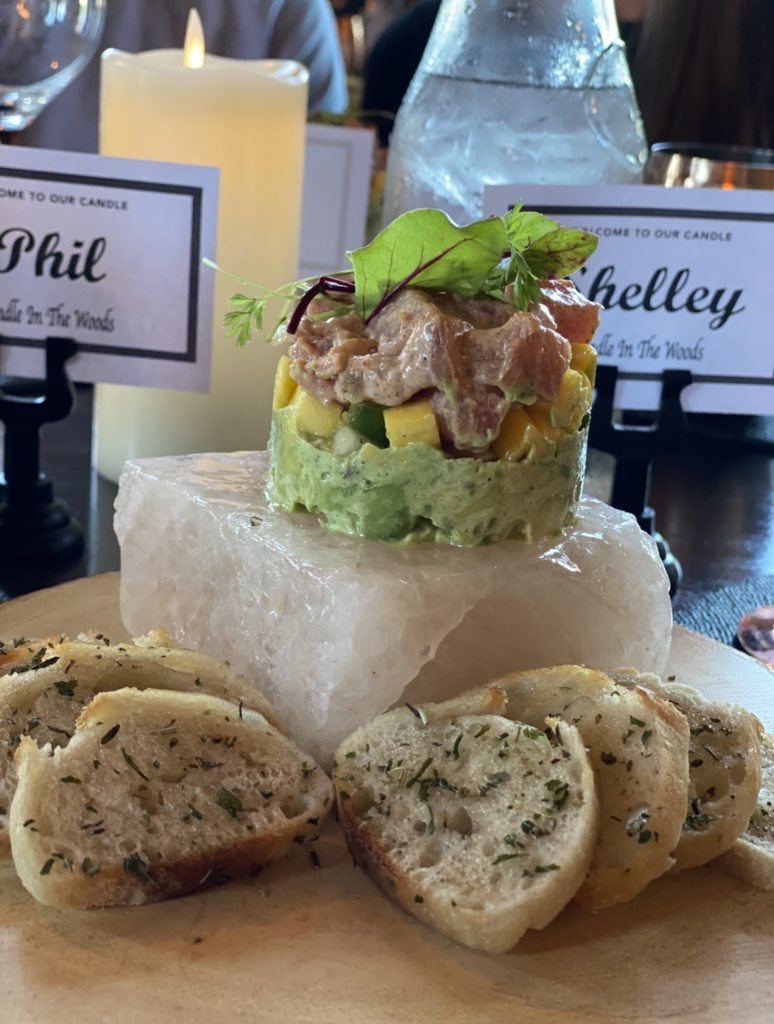 The tuna tartare was stacked on a mango mixture stacked on an avocado mixture and served atop a frozen Himalayan salt block garnished with fresh microgreens from the garden. It was accompanied by slices of baguette. This was one of my favorite courses.
Bahn Mi served with Les Daughins 2018 Cotes Du Rhone Blanc
Bahn Mi is a Vietnamese sandwich often made using pork belly as this one was. Chef Dave says that it's all about the pickle and in this case, the pickle consists of radish, cucumber, rhubarb, habanero, carrot with Mexican sweet cream, cotija cheese, and a side of corn salsa. I've never had Bahn Mi before and this was pretty great!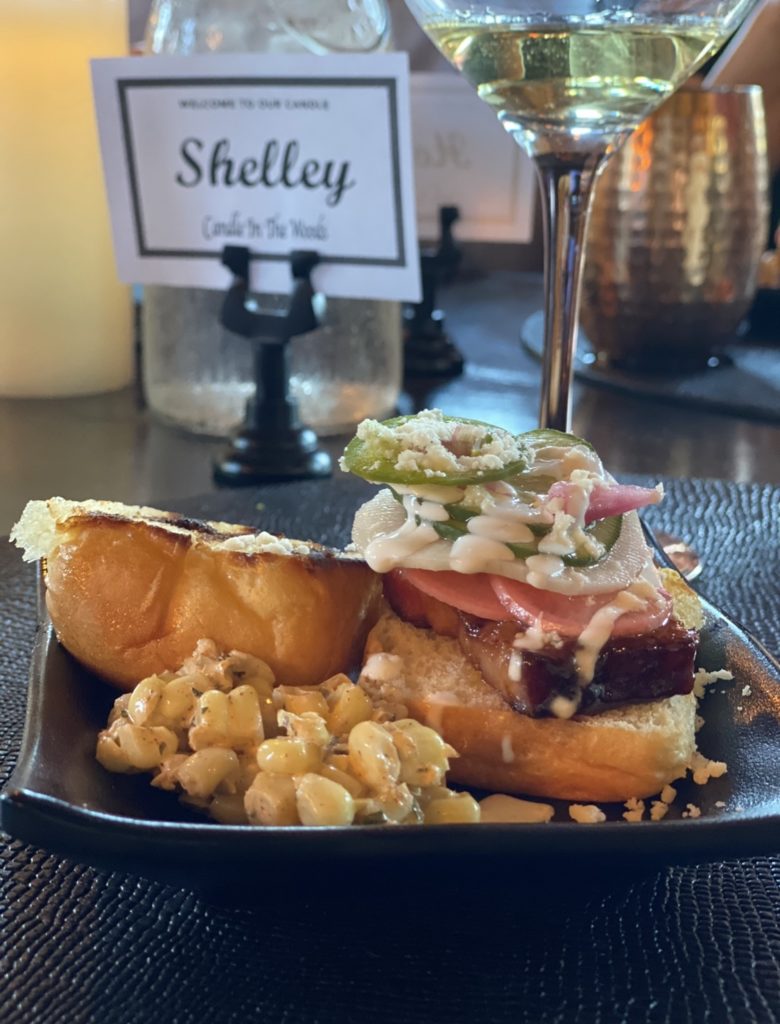 Fruit plate nibble palate cleanser with smoked grapes served with Caymus Conundrum 2016 White Wine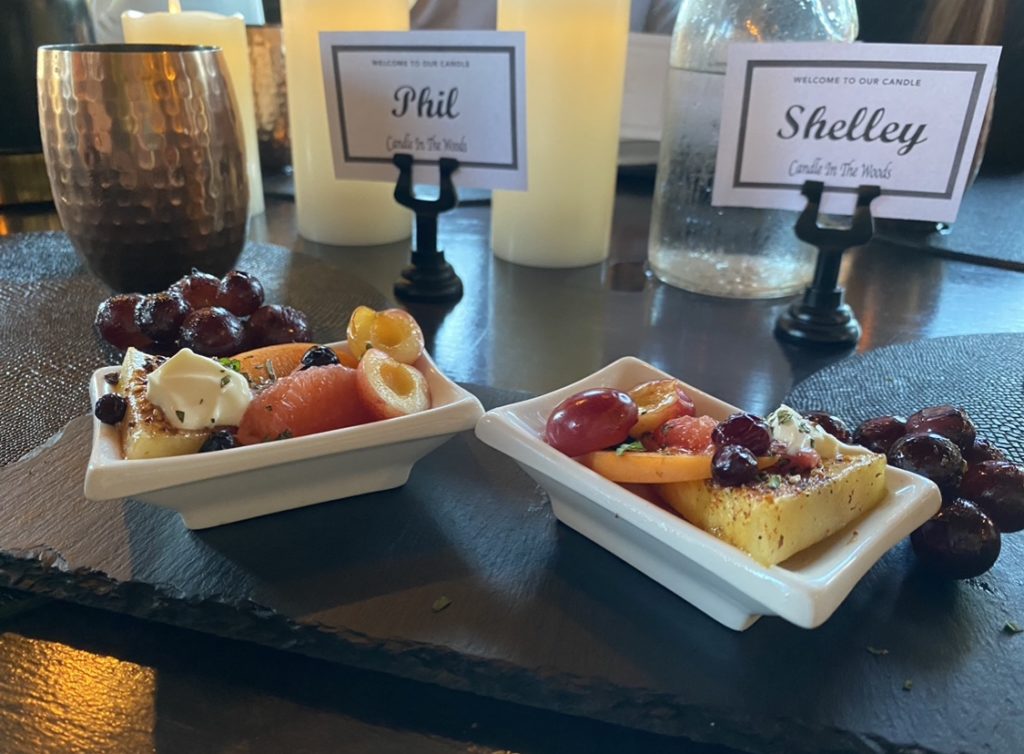 The smoked grapes!  Oh Em Gee!  I may need to go out and buy a smoker JUST to be able to make these! The rest of the platter consisted of yellow melon (infused with togarashi spice), huckleberries, rainier cherries, grapefruit, topped with apricot creme fraiche, and local honey.
Smoked Scallop in Phyllo served with Farmers Leap 2018 Chardonnay
This course was all about the presentation. I wish I was listening more closely about how this was prepared, and how the smoke was put into the globes but I do know that the scallop was meant to be eaten in one bite! (Again, see the video of the "unglobing" on my Instagram stories highlight.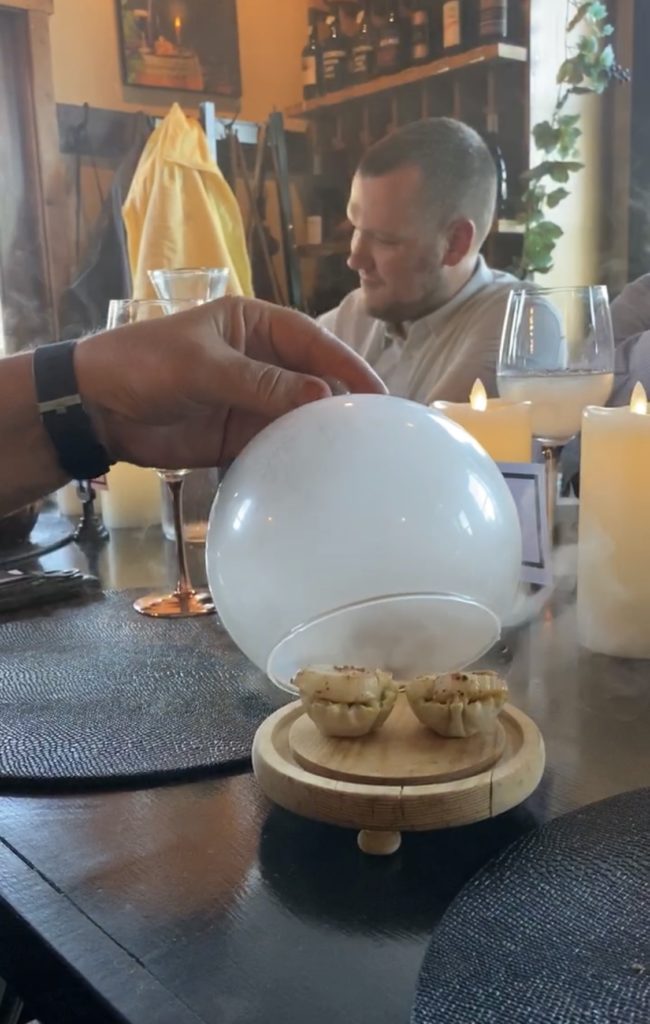 Lobster Cappuccino with Royal Osetra caviar on a tiny spoon (like BoBo Balls for adults)
This was my favorite course!  I've always loved lobster bisque and this one didn't disappoint – smooth, rich and flavorful. The caviar was excellent, not salty.
Tableside Ice Cream with Togarashi Shortbread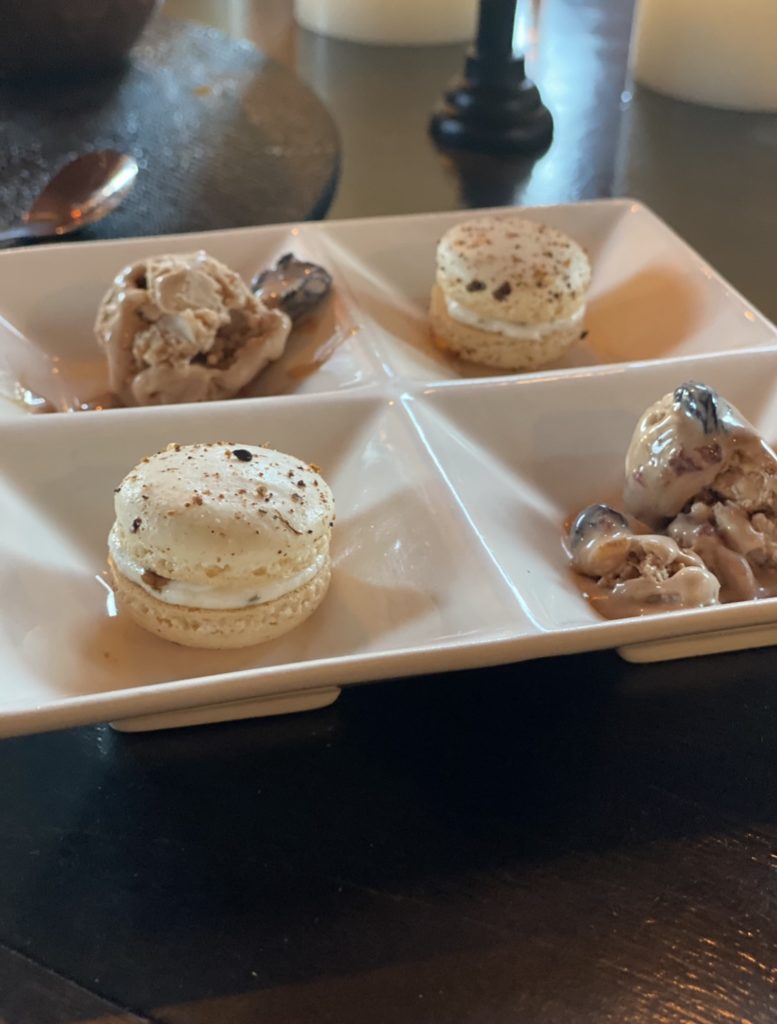 Tableside ice cream made with the liquid nitrogen technique (see a photo of Delaney stirring it above) – pepper, blueberries, bacon, maple syrup, (with togarashi [Japanese 7 spice]) and a macaron with capers and goat cheese filling.  SO good! This appetizer won a James Beard Award.  Sous Chef, Sarah made the Cookie.
Intermezzo 1 -served with Mama Peach Bubbly for the ladies and a Moscato Dulce for the gentlemen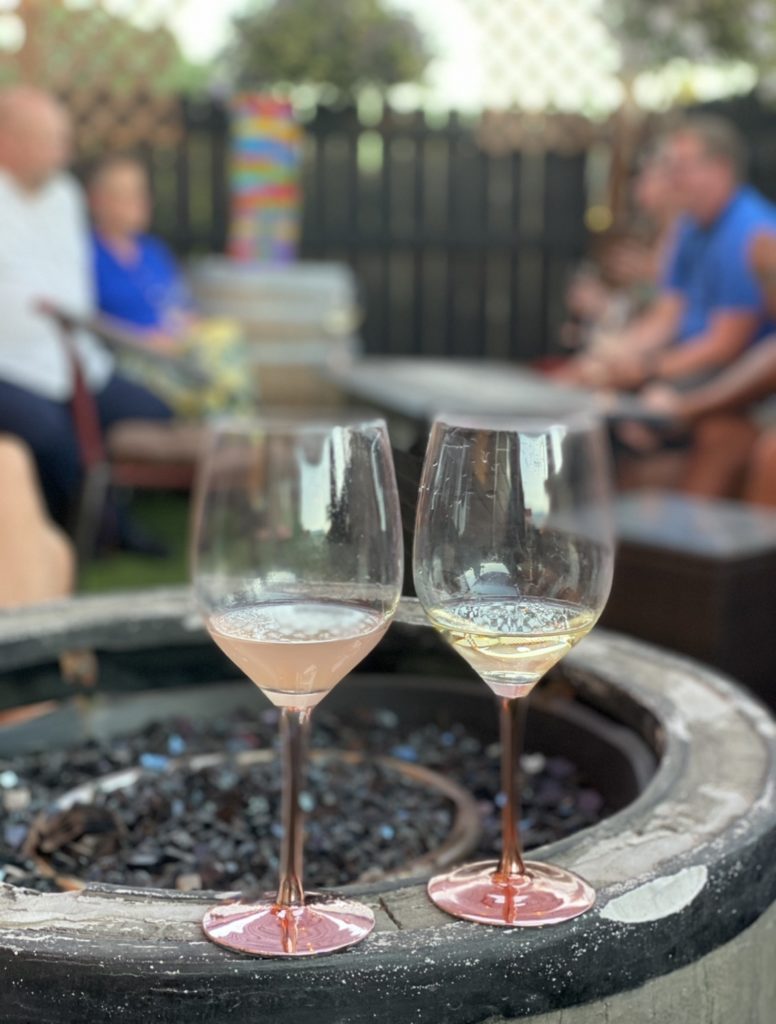 We enjoyed our beverages on the patio where a few of the guests played Jenga.
Seconds
Ravioli in Sambucca & Lemon Cream with Giant Prawn and Chipotle Candied Bacon served with 2018 Russian River Robert Stevens Pinot  Noir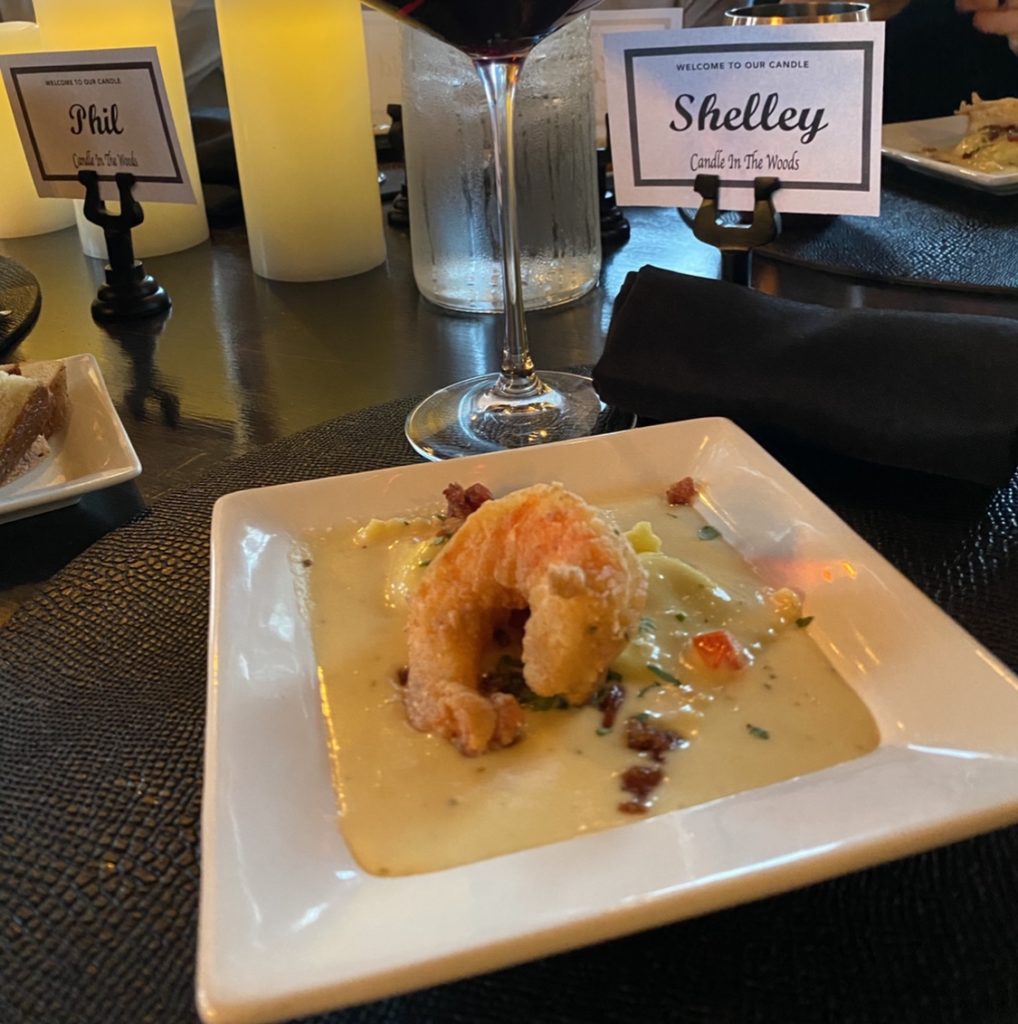 There were 2 different ravioli, one was cheese and one was portobello mushroom ravioli, both in lemon Sambucca cream, topped with chipotle candied bacon, and accompanied by a giant prawn.
Chef Dave describes the Pinot Noir as a dirty girl – earthy, and mossy.
Duck and Potato Cake served with 2018 Gen 5 Old Vine Zinfandel from Lodi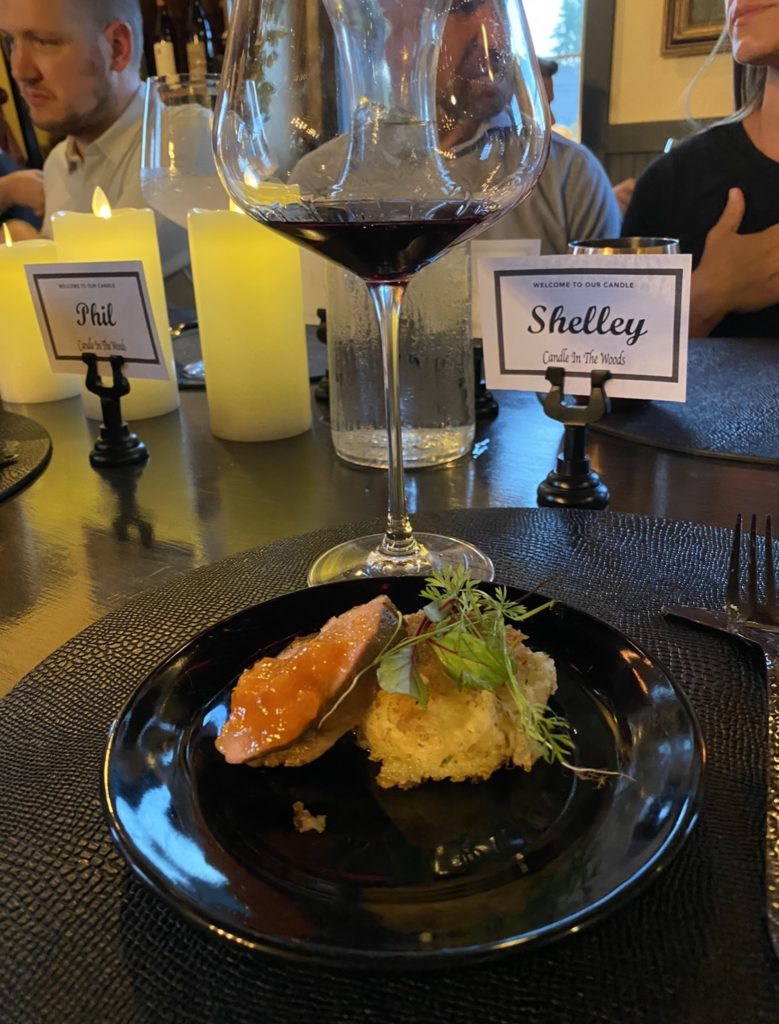 The duck was prepared sous vide with a rhubarb and apricot sauce, and served with potato cake,  and freshly picked beet and carrot microgreens.
*Note: Old vine zinfandels are grown on vines that range in age from 60 to 80 years old. They produce low yields of small, concentrated clusters of fruit, which creates incredibly intense and flavorful wines. This particular Old Vine Zin showed bold, smokey, bold, blackberry dark fruit.
Hibiscus Sorbet with Sparkling Sugar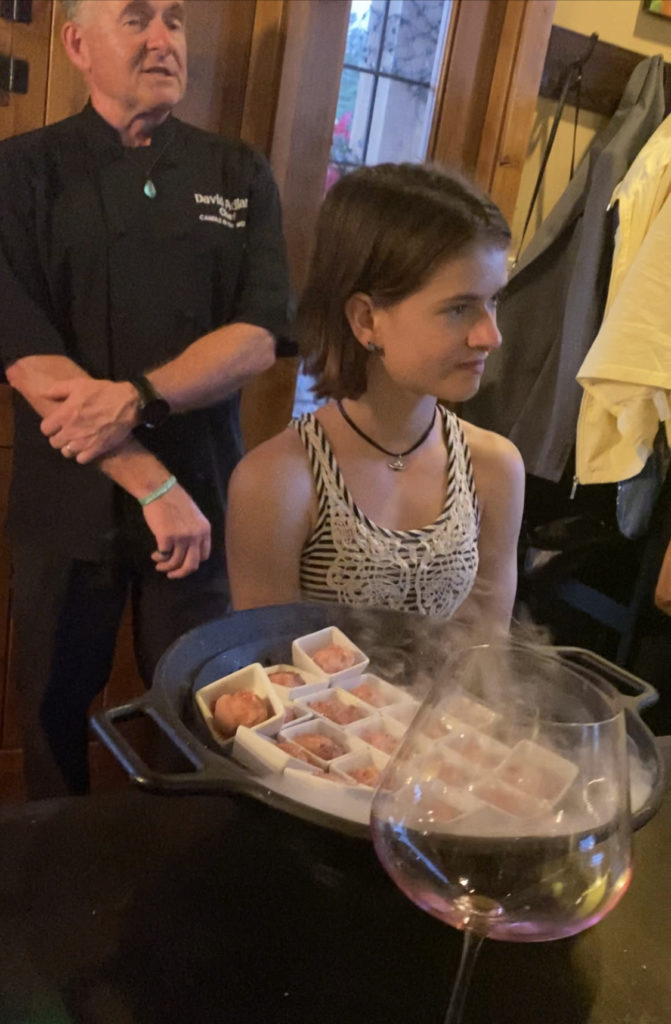 Chef Dave explained that the sorbet contained a secret ingredient and invited us all to taste it at the same time and guess what it might be.
Surprise!  The secret ingredient sparkling sugar was grape Pop Rocks!
The cab was bold and jammy with notes of black current.
Intermezzo 2 with J Scott 2015 Cabernet Sauvignon – Yes, there's more!
The Main Event
Steak and Grits with sauteed asparagus served with Ambassador Cellars 2013 Envoy Rhone blend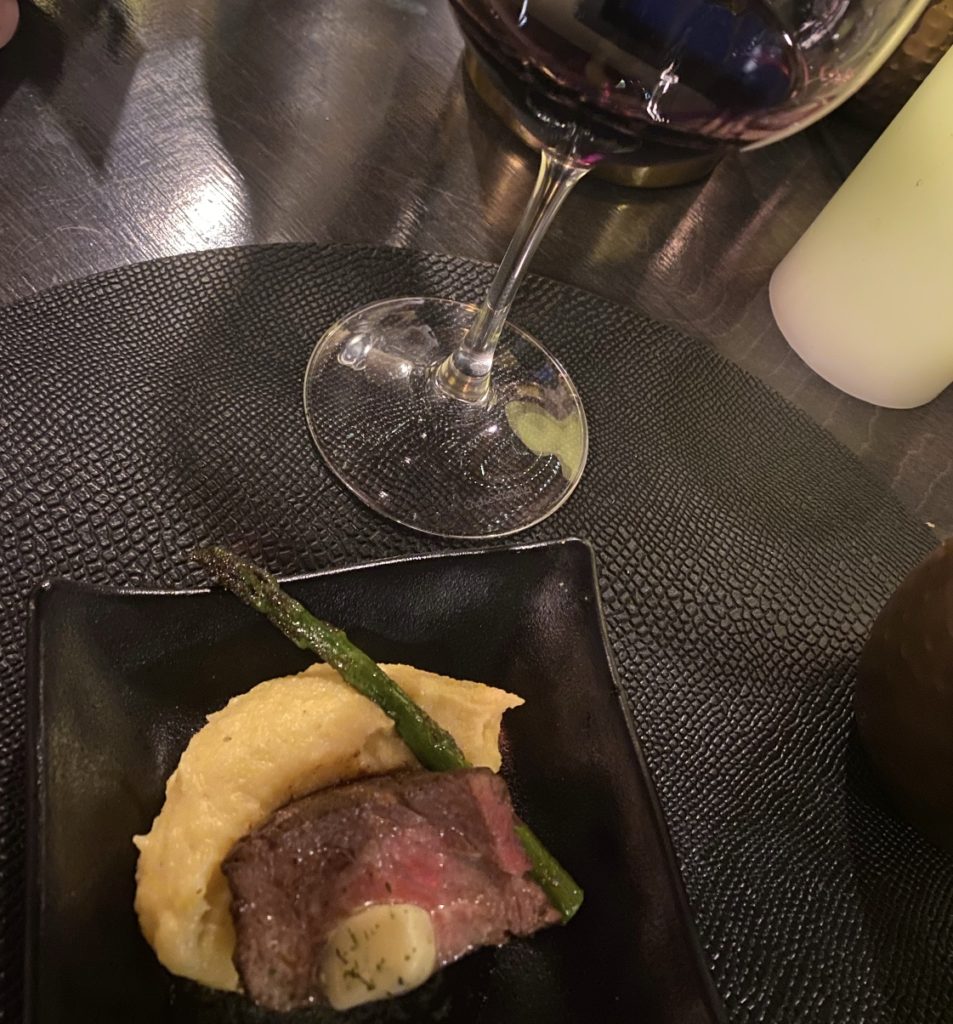 Filet Mignon Steak topped with a melted lemon dill herbed butter served with the smoothest grits I've ever eaten, and sauteed asparagus (with a bit of heat).
The wine – red mountain fruit with hints of cedar and dark berries.
Sweet Surrenders
Summer Citrus Cake served with Fattoria Del Cerro 2013 Dessert wine
Although you can't see it, this dessert was shaped into a half-moon. It consisted of Summer Citrus Cake pieces with lemon curd, toasted meringue, and raspberries. I'm always a sucker for lemon curd and raspberries, especially on a hot day!
The dessert wine had hints of honeycomb, apricot, fig, and caramelized orange. For dessert wine, the alcohol percentage was fairly low at 14%.
Port, Chocolate and Cheese
For our final course, we were served a Mene'rt white port with gouda cheese and a dab of homemade chocolate. At this point, I completely forget to grab a photo! Can you blame me?!
Per Chef Dave, here's how to enjoy it – cheese, port,  cheese, port, chocolate!
Quick Look at the Wines We Tasted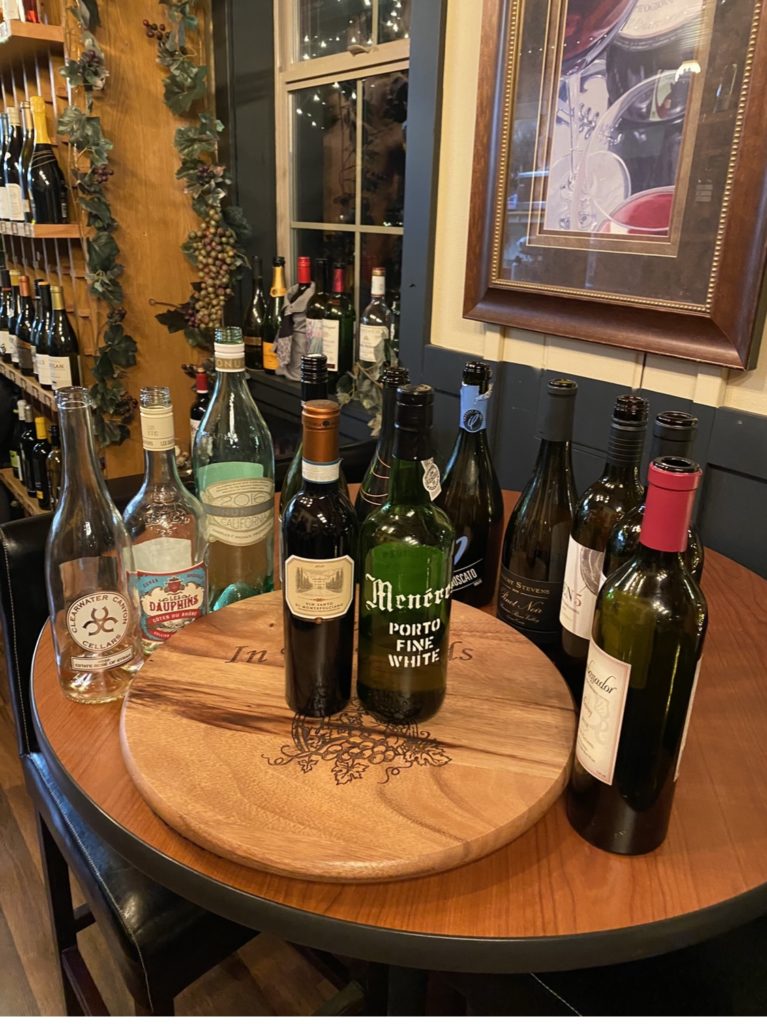 And we're out!  What an amazing experience!
16 courses of food, 10 wines… plus sangria, a champagne cocktail and a toast shot of something I didn't write down… Wow!  The price per person is currently $140.00 but obviously more than worth it. The limousine ride is extra, but affordable and worth staying safe.
To learn more about Candle in the Woods or to make a reservation visit their website.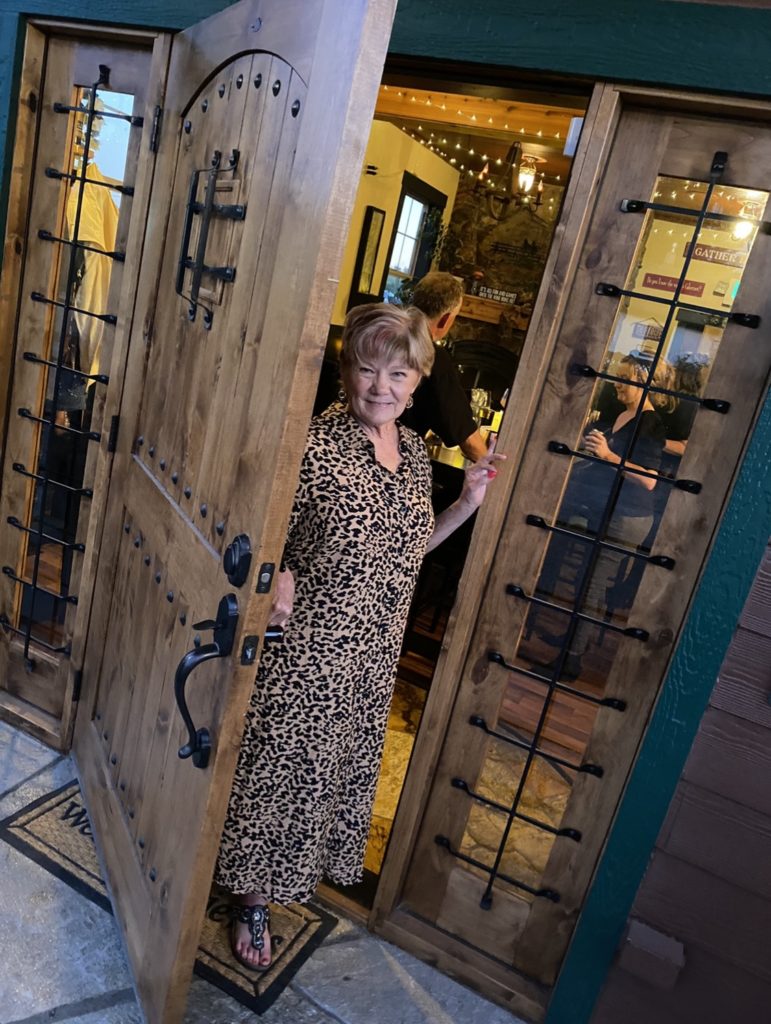 LEARN TO LOVE YOUR LIFE AGAIN
---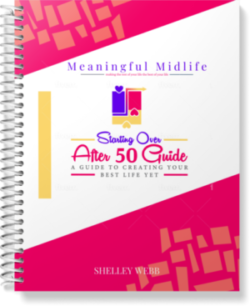 Do you feel like you need to hit the REFRESH button on your life? Download our free guide and begin to create your best life yet!